Thursday, October 11, 2007:
I LOOOOOOVE my birthday. I am totally shameless, obnoxious, and demanding this one day out of the year...well, it's probably way more than that, but it's the only day I'll admit to it. Today truly does become all about ME. So of course I'd want to share my day with you, and let blogland know that today is
Stacy ~
's day. Rejoice with me.
And, AND, I just know before the day is through, my co-workers will be beyond sick of me, my friends will roll their eyes and think I'm rather immature for my age, and I, well, I will be grinning like a fool because, you know, today is my birthday. Me, me, me. Nothing like a bunch of shameless attention to lighten my self-absorbed little heart. And a hottie to make me grin like a silly school girl.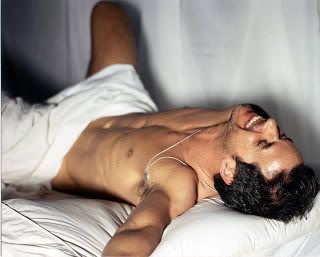 In my mind, birthdays are to be celebrated (obviously). True, everyday is a special day, but the day we were born is extra special; not just for me, but for all of us. It's like my annual reminder of why friends and loved ones and so important to me and how much I love having them in my life. They can get me through when I need a shoulder to lean on, or make me laugh harder than I've ever done before. They are living treasures.
So yes, back to me again. Today there will be cake, and treats, balloons and banners, cards and gifts and dinner with friends and singing and me taking it all in like a queen before her loyal subjects. God, do I sound sickening or what? Truth is, today, I don't care. Tomorrow I may let guilt and embarrassment overwhelm me, but today is mine. Even my work extension is 1011. How cool is that?
Ahem. Will you still love me tomorrrrrow?