Friday, September 21, 2007:
Today would have been Hannah's 6th birthday. If you remember, Hannah is RachD's beautiful girl, a source of love and delight and wonder, even to those who've never met her. Hannah passed away in July, but everyday before and since her light has shined, and when I think of her, I see a different world, a gigantic place where amazing things are happening all the time, and not just the same old place I rush through on a daily basis. Rach loves to talk about her kids, so I knew of Hannah and her sister Lily for a long time, getting a kick out of their child-like antics.
Rach has been amazing, and I know that it's been so, so hard for her. What mother wouldn't be devastated? But Rach has chosen to honor both her precious children by living life, and dealing with the pain and sharing herself with others. I cannot begin to imagine how difficult today much be for her and her husband Brien, but I know that Hannah is watching over her family, and that there are many, many people who are thinking of this incredible family, especially today. I am humbled at Rach's strength, and her loving spirit. I think she must be a very special person, and that those people in her life were drawn to her because of it. I feel so lucky to have someone like her in my life, and while I may not always say it, I visit her blog frequently and find peace and hope in the way she celebrates life.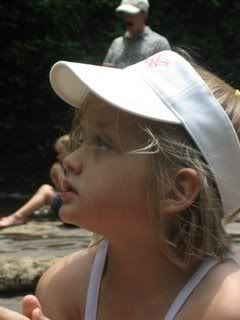 This picture of Hannah makes me wonder: what was she thinking about just then? Did she she angels from where she was sitting, or little magical fairies that were completely enchanted by her? I imagine she saw many wonderful growing things, and that she was sending out her love to her family - Rach, Brien, and Lily - and those people who were never strangers to her.
If you get a chance today, think about Hannah. Remember how wonderful it is to discover something new, something living, something God created and shared with the world. Notice the sound of the wind, or the scent of sunshine on your clothes. Watch the birds as they soar above, and the clouds as they float on by in their fluffy glory. Remember Hannah.