Monday, September 03, 2007: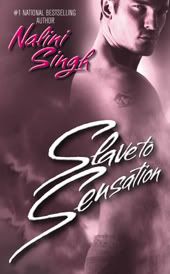 Paperback: 345 pages
Publisher: Berkley (September 5, 2006)
ISBN-10: 0425212866
ISBN-13: 978-0425212868
Dive into a world torn apart by a powerful race with phenomenal powers of the mind—and none of the heart…

In a world that denies emotions, where the ruling Psy punish any sign of desire, Sascha Duncan must conceal the feelings that brand her as flawed. To reveal them would be to sentence herself to the horror of "rehabilitation"— the complete psychic erasure of everything she ever was….

Both human and animal, Lucas Hunter is a Changeling hungry for the very sensations the Psy disdain. After centuries of uneasy co-existence, these two races are now on the verge of war over the brutal murders of several Changeling women. Lucas is determined to find the Psy killer who butchered his packmate, and Sascha is his ticket into their closely guarded society. But he soon discovers that this ice-cold Psy is very capable of passion—and that the animal in him is fascinated by her. Caught between their conflicting worlds, Lucas and Sascha must remain bound to their identities—or sacrifice everything for a taste of darkest temptation…
I am rather quite late to the Psy-Changeling party, but better late than never, as the saying goes. I started this and immediately was drawn into the fascinating world Nalini had created, so much so that I was even dreaming about it that very first night. That being said, it did take me a week to read the book, as I tried to pay attention to the complex Psy world, and the more unpredictable changeling world.
It is the year 2079, and Silence - the act of conditioning the Psy population to feel no emotion whatsoever - is considered a huge success to their race. They live for success, every decision based on creating the most effective and healthy and lucrative existence possible. Family is only the means by which to continue on the line. Loyalty belongs to the Council, who controls all, and sees all in the mind net that sustains their race.
Psy and the the changelings live separately, but continue to do business together, albeit warily. It is during such a business transaction that Psy Sascha Duncan meets Lucas Hunter, a DarkRiver leopard, and is immediately drawn to the magnetic man, despite her fear of feeling anything at all. But Sascha has a job to do, and that's what she is going to do, despite the disturbing distraction Lucas happens to be. See, Sascha knows she is a flawed Psy, that it is only a matter of time before she is found out by the Council. Her own mother is a powerful member and wouldn't hesitate to get rid of any weakness. Sascha fears rehabilitation worse than death, and will fight to remain intact as long as she possibly can.
Meanwhile, Lucas is puzzled by his awareness of the beautiful Psy. How can he - part man, part leopard - be fascinated by a woman who feels nothing, when to him, touch and Pack mean everything? Yet he can't deny that he is drawn to her, and the more he gets to know her, the more he sees that she is unlike any Psy he's ever known. But like Sascha, Lucas also has a job to do: avenge the death of a pack member who was brutally murdered by an unstable member of the Psy race. Lucas believes that by sticking close to Sascha, he will learn secrets of their closely guarded world, and catch the scent of a killer. He owes his pack that much, and cannot rest until vengeance is theirs.
As I mentioned, I was immediately pulled into this world, though I admit the whole idea of "conditioning" to feel no emotion felt...icky...to me, like some bizarre brain-washing experiment. But the more I read, the more I wanted to know about everything. Sascha may have been good at acting cold and emotionless, but it's pretty obvious that she has feelings, and she's afraid of what that means. Lucas is like a heady balm to her soul, but she fears the connection they have with each other. I liked how brave she was, even though she was terrified, and I admired how she faced up to her fear and was more than willing to do the right thing, even if it meant sacrificing her own happiness.
And Lucas was a hero to die for. He was strong, wild, undeniably alpha, loyal to his Pack and those he loved. Once he recognized Sascha as his mate, there was no one and nothing that would keep him from her; she was his, just as he was hers. His scars were many, deep, but he carried them with honor, and vowed to protect those he called his own. I loved how he teased Sascha, how she wasn't afraid of him, how he delighted in her responses to him. Changelings are a sensual race, and that in itself made it easy to connect with him and with the various members of his pack - they loved to touch with affection, to play, to tussle. Sascha was a bit flustered by this, but soon came to crave the simple touches of friendship the pack shared with each other. I will say that I really liked all of the affectionate touching between Sascha and Lucas that took the place of what could have turned into an on-going sex marathon; it made their connection so much stronger, much more intimate, and when they finally do make love, it's much sexier and made more sense to their story.
So yes, I loved this book (yeah, yeah, yeah MK, LOL) and I already have #2 and #3 (yes!) waiting to be read. I commend
Nalini Singh
for creating such an engaging premise and for her fascinating, ever-changing worlds where much can happen - you just never know what that might be. I like that though the year is 2079, it's not so different from today's world. There are so many directions this series can go, and I look forward to reading every single one of them. So if you love paranormals and haven't read this series yet,
buy the book
!
Labels: Nalini Singh, paranormals, reviews