Saturday, August 11, 2007: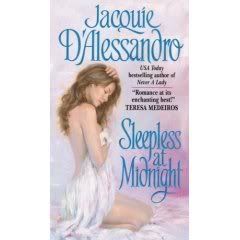 Mass Market Paperback: 370 pages
Publisher: Avon (June 26, 2007)
Language: English
ISBN-10: 006123138X
ISBN-13: 978-0061231384
The ladies in London are abuzz over Mary Shelley's Frankenstein, especially Miss Sarah Moorehouse. Her imagination is fired up, so when she spies Matthew Devenport, Marquess Langston, mysteriously sneaking home in the wee hours clutching a shovel, she simply must investigate. Impelled by curiosity, the adventurous lass steals into his bedchamber—only to be caught red-handed by the impossibly handsome and totally naked nobleman.

The Marquess Langston has more important things to worry about than a group of literature-loving ladies. But Matthew's grand plan to rescue the family from ruin could be lost when he discovers Sarah hiding behind his bedroom curtain. What is this meddlesome woman up to? And why are his desires inflamed by a chit who is too inquisitive for her own good? Well, two can play at this game . . . and when Matthew captures the beguiling Sarah in all her naked glory, the night of mischief has only just begun.
Awhile ago while I was blog-hopping, I came across this fabulous review by Isabel of "Sleepless at Midnight" over at the Book Binge, and I just had to get the book. I'd never read anything by Jacquie D'Allesandro, nor have I paid much attention to her or her books - they never stood out much to me. They just blended in with all the other historical books and authors out there. Not to say that these authors don't write good books, but there is only so much time in a day. Inevitably, it happens.
Anyway, so after the review, I bought the book, but I didn't read it right away. Finally this week I felt in the mood for a historical, and this one was on the top of the pile. I didn't know it, but boy, I was in for a treat:
Sarah Moorhouse's widowed sister, Lady Wingate, and a few of her friends are invited to the Marquess Langston's home for a house party. As Carolyn's travel companion, the plain spinster Sarah accompanies her sister, hoping to bring back some laughter into her life after the death of Carolyn's husband three years ago. One of the ideas she's concocted is to establish the Ladies Literary Society of London, where under the guise of respectability, they will discuss sensational and scandalous books, such as Mary Shelley's "Frankenstein". During their late night discussions, they create the Perfect Man, even going as far as to "build" him, but not in the gruesome way of Dr. Frankenstein.
While all this is going on, Matthew Devenport, Lord Langston, is digging in his garden. Somewhere on his estate, his now deceased father is said to have buried a treasure, and as Matthew has been left with numerous debts he is unable to repay, he is desperate to find the treasure and take care of his responsibilities. He made a deathbed promise to his father than he would marry and produce an heir, and unless he can find that treasure, he will have to find a rich heiress to wed. Not a wholly unappealing thought, but Matthew is having difficulty finding a beautiful, rich bridal prospect to engage his interest thoroughly enough to want to marry her.
Whom he does notice however, albeit reluctantly, is the plain young woman accompanying Lady Wingate. From the very first, his attention is drawn to the bespectacled spinster, when during dinner, her glasses steam up while she's eating her soup. Wearing glasses himself on occasion, he completely understands her problem and feels a pinch of sympathy for her. On another occasion early one morning, while he is set to go digging yet again, he unexpectedly comes across Miss Moorehouse in his garden, petting his dog and enjoying the various plants and flowers surrounding her. Feeling obligated to act the perfect host, he stops to trade polite social niceties with her, and learns a great many interesting things about the young woman, and from that moment on, he has trouble keeping her out of his thoughts.
One thing I absolutely loved is that Sarah doesn't change who she is to capture Matthew's attention; she remains "herself", and what draws him to her is their shared interests and personal experiences. Having spent her life in the shadow of her beautiful, older sister, instead of becoming bitter or withdrawn, Sarah is instead a loving, intelligent young lady with a passion for a great many things, including sketching, animals, and learning. The longer Matthew knows her, the more captivated he becomes, and sees past her thick spectacles to the remarkable and kind woman she truly is. While most everyone around him still sees Sarah as plain and uninteresting, Matthew only sees her unique and soothing beauty, her intellect, her kind and giving nature. She is his Perfect Woman.
Matthew is a man of deep honor, who strives to keep his promises and is constantly aware of his responsibilities and what he owes to those who depend upon him. Falling for Sarah was not part of his plan, but once he realizes he does instead care for her, he is upfront with her, letting her know of his financial situation and what he must do to remedy it. Their longing for one another is bittersweet, the knowledge that they must soon part completely heartbreaking. Knowing Matthew must marry another is like a knife to her heart, but Sarah knows he has no choice, as she has no money of her own.
This book is a wildly romantic and lovely story, and reminds me of how I used to love reading books like this on a regular. Now they seem few and far between. New-to-me Jacquie D'Allesandro pens a remarkably sweet and sexy depiction of the love growing between Sarah and Matthew. The more they get to know each other, the more their fascination for each other grows. I could actually "see" them fall in love, and it was wonderful. I highly recommend this book, and even went as far as to get 3 more D'Allesandro books in the hopes of re-capturing that magical feeling.
Thank you Isabel, for the great review that encouraged me to go on out and snap it right up. It's definitely a keeper, and I plan on immediately re-reading it so I can get lost in that happy feeling all over again.
Labels: historicals, Jacquie D'Alessandro, reviews