Monday, July 30, 2007: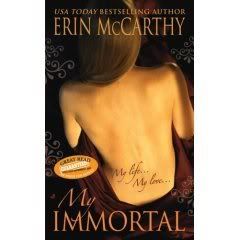 Paperback: 320 pages
Publisher: Jove (August 28, 2007)
ISBN-10: 0515143480
ISBN-13: 978-0515143485
In the late 18th century, a spoiled, selfish plantation owner struck an unholy bargain with a fallen angel: an eternity of servitude for the gift of immortality. For over two hundred years, Damien du Bourg has held up his end of the bargain—by inspiring lust in everyone around him…

Stumbling upon Damien's plantation on the outskirts of New Orleans while searching for her missing sister, Marley Turner enters a world of shocking decadence. Drawn to the tortured man at the center of it all, Marley feels a powerful sensuality stirring inside her. For the first time, it's Damien who can't resist the lure of a woman. But his past sins aren't ready to be forgotten—or forgiven…

The year is 1790, and the demons are out to play during Louisiana's hot, sticky summer solstice. One such demon, Rosa Francis is making the rounds of the various plantations to partake in the offerings they have left for her. Her first stop is Rosa de Montana, where she expects to be properly admired and feared by the extravagant offerings of the plantation, only to be greeted by silence, and not the gratitude of those who understand the power she can unleash if she is made angry. Instead she finds the cruel and handsome Damien du Bourg, who gives her great pleasure in exchange for eternal life....
Present-day Louisiana: Marley Turner is looking for her free-spirited sister Lizzie, whose last known whereabouts happens to be Rosa de Montana, and is rather dismayed when when she arrives from Ohio and sees the crumbling mansion where Lizzie had supposedly been staying. Here she runs into sinfully gorgeous Damien du Bourg, who makes her a tad bit uncomfortable and suspicious, but he may be the only person who can help her find her missing sister, so she reluctantly agrees to let him help her while trying to deny her overpowering attraction to the enigmatic man. She knows Damien is keeping secrets from her, possibly dangerous ones, but she's desperate enough to ignore all that if it will help her find Lizzie. Damien discovers that Marley has something he wants, a letter about someone from his past, and he has agreed to help her find her sister in exchange. Damien arranges to throw one of his infamous sex parties in the hopes Lizzie will show up and put Marley's fears to rest, and in turn will give him what he wants.
Damien is intrigued by the saintly yet lushly sexy Marley, especially since she's able to resist his overwhelming sexual pull, a fringe benefit to the immortality he eagerly demanded centuries ago. Part of Damien's curse is that he must service women sexually, and he has done so faithfully yet wearily for years, but now he faces a woman who truly attracts him, yet manages to avoid his seductive charms. The more he gets to know this virtuous woman, the more he wants to be with her, until he finds himself wishing for a future he knows he can never have: of happiness with the one woman he loves beyond eternity. Damien du Bourg has been given a curse he gladly asked for, not realizing until it was too late just how cruel a pact with a demon truly is, and Damien has done things, horrible things for which he knows he can never be forgiven, so wishing for happiness is just a foolish wish.
I was damn lucky to win an ARC for "My Immortal", and it was pure reading pleasure. Erin McCarthy has strayed from her usual lighter, humorously hot stories to bring us a darkly sensual tale filled with lust, redemption and the overwhelming power of love. The setting is the earthly and humid location of New Orleans, Louisiana, which invokes a multitude of images saturated with the spicy and flavorful naughtiness and decadence of the bayou. It comes across as the perfect playground for a regretful demon to live out his eternal life while he pays homage to those he answers to, albeit reluctantly. It's also the right setting for Marley to transform from a shy, introverted wallflower into a confident, brave, alluring woman who demands more out of life than to just merely exist. While searching for her sister, Marley learns some things about herself and about what she cannot control, no matter how much she tries, and while it's a bittersweet lesson, it's one she needed to learn in order to go on with her life.
This book haunted me long after I read it and couldn't stop thinking about what it must be like to live with such a curse. The story was rather dark, and the characters really had to go through a lot to earn their HEA. It reminded me how the consequences of our impulsive actions can sometimes cause strong regret when they can't be taken back, ever. Kudos to Erin for delivering an emotional and intense story that made me think, but also made me believe in the strength and courage it takes to face up to what you've done in your own life instead of whining and/or blaming others. This book really resonated with me. I completely fell into the story and couldn't put it down, which just goes to show you what an amazing talent Ms. McCarthy truly is. I anxiously look forward to the next installment: Erin, babe, you have me completely hooked.

Labels: Erin McCarthy, reviews