Saturday, August 25, 2007: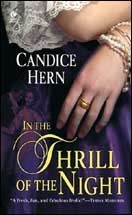 Paperback: 304 pages
Publisher: Signet (February 7, 2006)
ISBN-10: 0451217845
ISBN-13: 978-0451217844
Marianne Nesbitt adored her late husband David, but the racy reminiscences of the Merry Widows make her wonder if she missed something special. Might she find it now through a love affair? Uncertain how to go about it, she asks Adam Cazenove, an old friend and notorious rake, to tutor her in the arts of seduction.

The brazen request turns Adam's world upside down. He never imagined his best friend's very proper and exceedingly attractive widow would seek out a lover. If not for his recent betrothal, he would jump at the chance to warm her bed. Since he cannot bear the thought of another man doing so, he foils her every attempt at seduction. Until one night of unintended passion changes everything ...
It all starts with a meeting between the trustees for a group known as the Benevolent Widows Fund, a group of rich widows who traveled in the highest levels of society and did charitable work to help those less fortunate widows who were left poor and without any connections for a better life. While continuing their good works, the group of trustees evolved when one of the widows spoke about spending her winter with her newly acquired lover, an announcement that shocked most of the ladies. Yet only momentarily, for they began to seriously discuss the joy and freedom of discreetly taking a lover solely for the pursuit of pleasure; none of the widows needed, or wanted, to marry again, yet. If Penelope could take a lover, why couldn't the rest of them? Why not, indeed....
I loved the idea behind the Merry Widows a lot. I'll admit: it took me awhile to get used to the idea of heroines being sexually assertive and independent, especially in historicals, but now I've come to embrace them, for the most part. There is still a small part of me that likes to read about the virginal heroine from time to time, but now, reading about heroines who embrace their sexual side is really rather fun and titillating because they are the ones who are taking charge and going after what they want. That's the way it should be.
Here, Marianne is startled yet intrigued by the idea of taking a lover. Never before had the thought crossed her mind, but now it's all she can think about, and sees the abundance of opportunities before her, if she'd only accept what is being subtlely being offered to her. Unsure of how to "get started", she asks her dear friend, Adam Cazenove, to assist in her search for the perfect man to intiate her in the pleasures of the flesh. But he is reluctant to lead her into the arms of another man, instead wanting only to give her pleasure himself, though he is unable to do so due to his upcoming nuptials, until one night, when blinding passion takes over and he gives in to his every desire...
I liked this book, but I didn't like the subterfuge that was laced throughout the pages. I felt that Adam's actions were too secretive and devious for me to appreciate why he did them, and lead to a rather horrifying moment of realization for poor Marianne. Once that was resolved, however, then Marianne was rather adamant about not marrying Adam, which would have been fine with me, however her reasons for rejecting his proposal completely bothered me and felt like they were going against the very purpose of why she wished to remain an independent widow in the first place. I was much relieved when they both came to their senses and achieved their HEA. Not a moment too soon, because I did actually like them both, and was hoping they'd open their eyes and realize what was right there in front of them.
Paperback: 320 pages
Publisher: Signet (August 1, 2006)
ISBN-10: 0451219201
ISBN-13: 978-0451219206
Beatrice, Lady Somerfield, is too busy acting as chaperone for her headstrong niece to take her friends' advice to find a lover. Maybe next year, she thinks. Until one night at a masquerade ball when a dark stranger makes her realize what she's been missing.

When she finally discovers his identity as the Marquess of Thayne, the very man she has practically been pushing into her niece's arms as the Catch of the Season, Beatrice is horrified. But Thayne is thoroughly captivated by Beatrice, and finds himself increasingly drawn to the beautiful, sensual, more mature and sophisticated Lady Somerfield, and soon discovers he wants more than a love affair. Beatrice, however, has vowed never to marry again. But when their private fling leads to public scandal, more than one life is turned upside down.
Oh, now this was quite a delightful story, right from the get-go. Beatrice is immediately attracted to the mysterious man who keeps watching her, and feels a thrill of excitment she's never known. But she's there as a chaperone to her beautiful niece, who is determined to capture the most eligible man of the Season. Yet the intriguing man relentlessly pursues her, awakening a deep desire she is helpless to resist. After engaging in a exquisitely passionate encounter, Beatrice is soon dismayed to learn that the nameless stranger is none other than Marquess of Thayne, the one man her stubborn niece is determined to bring to the altar. Can you say "awkward"?
Thayne knows he must marry, and had made a promise to his parents that he would fulfill that responsibility before his thirtieth birthday, which is rapidly approaching. But the debutantes and lovely young maidens cannot attract the bored and arrogant Marquess, not when an intelligent, exciting and independent widow has captured his attention wholeheartedly. Beatrice is the woman who Thayne turns to time and again, not just for pleasure but for stimulating conversation and informed opinions. Soon, she becomes the woman he wishes to spend his future with, but will scandal destroy their chance at happiness, or drive them apart?
Thayne is used to getting what he wants, and it's a bit gratifying to see that Beatrice does not easily bend to his will. I liked that he realized the jewel he had in Beatrice, and found her charms much more alluring and to his taste than those of a young, conceited young lady greedy for his title. Still, it was good to see him taken down a peg or two. Beatrice was devoted to her family, her children, yet what she experienced with Thayne was rare and beautiful, and she was wracked with guilt over the deceitful role she played in keeping Thayne and her niece apart, and almost gives up her chance at happiness as penance for her involvement. Thankfully they both come to their senses and decide to take a chance on living happily ever after. Amen.
Paperback: 320 pages
Publisher: Signet (August 7, 2007)
ISBN-10: 0451221915
ISBN-13: 978-0451221919
John Grayston, seventh Viscount Rochdale, has never refused a wager, especially one that involves enticing a beautiful woman into his bed. He's willing to stake his most prized possession that there's not a single woman in all of England immune to his charms. But when the object of the wager is the prim and proper Grace Marlowe, he has to turn on the full force of his seductive charm to woo her.

Grace, the widow of a famous bishop, finds her stalwart virtue put to the test when the infamous rake shows an unexpected interest in her. Outraged, flattered, and reluctantly attracted, she soon finds herself falling under the spell of the man behind the scandalous reputation. Rochdale, in turn, is delighted to discover a fiery passion beneath the widow's prudish façade. But when hearts and lives become tangled in the gamble, the truth of his seduction could ruin everything ...
We originally meet Rochdale in "In the Thrill of the Night", and discover the notorious libertine is actually a friend of Adam Cazenove, yet Rochdale is quite a bit more jaded and less honorable than Adam. So much so that he enters into a shocking wager that would have him bedding the virtuous widow, Mrs. Grace Marlowe, trustee of the Benevolent Widows Fund. Having no intention of losing the bet, Rochdale uses his considerable expertise and patience to woo the lovely yet repressed Grace, so confident of his win that he can practically taste it.
Grace is proud of having been married to the bishop, and honors his memory with numerous good works, as well as leading a chaste and quiet life. Charity work is her passion, and she loves making a difference to those who are in need. Having never experienced the earthly delights of the marriage bed - her husband believed it was not an act that should be enjoyed - she is rather shocked by the amorous pursuits of the other Merry Widows, yet she is curious as well. After all, her friends are not evil, depraved women. They are decent, generous ladies who embrace their sexuality with the men they love. Maybe finding pleasure in bed is not so sinful after all....
But of all the men Grace might have chosen to take as a lover, that rake Rochdale is not even on her list. Yes, he is enticing, and oh, so wicked, but surely she must stay as far away from his as possible. However he makes that impossible by slowly, patiently wooing her. Whatever ball or event she attends, he is there, watching. She cannot get away from his seductive powers, and soon realizes she no longer wishes to run from him. With Rochdale, she discovers exactly what all the fuss is about, and wants to experience it again and again.
Rochdale is at once delighted and wary of his success. The gorgeous widow is ripe for seduction, and falls into his hands with little prompting, but she is also kind, and giving, and unselfish, moreso than any other woman he's ever known. How can that be? Soon it's not just pleasure he is giving her, but also his heart. Yet will she still want it when she discovers the truth behind his initial interest?
I enjoyed this book quite a bit, especially since I've been dying to learn more about Rochdale, the tempting carrot dangling in front of this reader, who finds the wicked rake to be the most fun type of hero. I mostly loved this story, except towards the end with the frustration of "the big misunderstanding", which I felt where dragged out a bit much. Yes there were trust issues, but I felt it went overboard with the back and forth volley of who was being betrayed more.
Still, Rochdale was an irresistible rake, and falling for the virtuous yet sensual Grace was exactly what he deserved. I love how Grace, the most outspoken opponent of taking a lover in the beginning, reveled in her "a-ha!" moment, and was more than willing to repeat the experience with that sexy devil, over and over. She definitely needed to make up for lost time, no thanks to the clueless bishop she'd been married to. Thank God she found the perfect someone to help her with that.
All in all, a lovely trilogy: fun, sexy, spirited, enlightening. I would have liked to have delved more into Penelope's and Wilhelmina's personal stories, the two most adventurous Merry Widows. I did enjoy the friendship and camraderie between the five ladies very much, and their open discussions about sex and what they liked, much like conversations I've had with my own friends. Definitely a quick, fun series to get caught up in, and I adored each of the Merry Widows for what they individually brought to the stories. Perfect reading for a rainy, lazy weekend. Enjoy.
Labels: Candice Hern, historicals, reviews