Wednesday, October 10, 2007: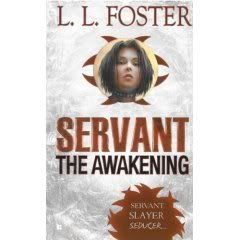 Paperback: 304 pages
Publisher: Berkley (October 2, 2007)
ISBN-10: 0425218740
ISBN-13: 978-0425218747
SERVANT. SLAYER. SEDUCER...
- ANGEL OF NO MERCY -
To most people, demons look like regular citizens. But Gabrielle Cody has the ability to see these creatures as they really are -- and the responsibility to destroy them. Here is a special purpose, a divine obligation, and a heavy burden.
Dectective Luther Cross finds himself attracted to Gaby even as he becomes suspicious of her proximity to a murder victim. Despite his mistust, he tries to offer her a tenderness she's never experienced and doesn't dare accept.
For Gaby senses that another malevolent presence is watching her...stalking her. As desperately as she tries, Gaby cannot find the source of this menace. But again and again, she is drawn to an abandoned hospital that is surrounded by an aura of sickness and suffering and something more -- an unimaginable evil...
Contemporary romance author Lori Foster is venturing into the world of the paranormal with this gritty, stark novel of a young woman given the power to find evil, and to destroy it. As L.L. Foster, she tells the story of Gabrielle Cody, a lone but brave soldier in the fight against the evil most people just don't see, but live alongside everyday. With strong guidance from God, Gaby is compelled to search out the violence and destructive forces that threaten to harm and kill those unable to protect themselves; she can't walk away from what is inevitably her destiny, and protects her identity by not getting too close to anyone. Not ever. To do so would only mean weakening her defenses and letting innocent people get hurt. Gaby cannot live with the risk.
But someone has taken an interest in the fiercely private and prickly Gaby Cody. Dectective Luther Cross is instantly drawn to the foul-mouthed and aggressive girl who doesn't have a coy bone in her slender body. He's not sure what to make of her and her violent way of communicating, but he senses more to her than antagonism and anger. He sees past her defensiveness to the vulnerable and somewhat naive young woman she is, and can't help but want to protect her from herself, especially when she's so secretive. But she pushes him away at every turn, and he can't help but wonder what exactly she knows about what's going on at the local hospital, and the missing bodies. Is Gaby involved in mystery of their disappearance, or is she really the savior she writes about in her graphic novels? Luther longs to peel away her multiple layers and discover what lies beneath each fascinating level until he reaches the tender heart underneath, if only Gaby will allow him that close...

Those who love the sexy and earthy romances Lori Foster excels at writing will discover a totally different type of world in the first book of her "Servant" series, one that is dark and grim and even a bit gruesome, but no less compelling because of it. Fans will easily identify the honesty in her characters, the "what you see is what you get" quality that is a trademark of the kinds of people she writes about. Gaby is a no fuss, no muss type of heroine, one who gets by on the simplest of necessities, and doesn't whine about forgoing manicures or monthly hair appointments, and certainly doesn't care about the latest in fashion accessories. I loved her grittiness, her strong sense of duty, and her curiosity when it comes to her awareness of Luther and his appeal as a man. In some ways, the twenty-one year old is extremely young and innocent, while in other ways she's as ancient as the Earth. One can almost feel the weight of the world she carries on her thin shoulders.

Meeting Luther may seem like a complication that Gaby can't afford to have, but the older, more experienced cop might just be the anwer to Gaby's unspoken prayers. Unafraid of her abrasive personality, unimpressed with her evasionary tactics, Luther nevertheless wants to get closer to her and explore the feelings she invokes in him: those of protectiveness, of sexual attraction, of grudging admiration. Being somewhat of a traditional man, he wants to protect and pamper her, but just how do you do that with a woman who is armed to the teeth and has no problem knocking him off his feet - figuratively, or literally?

I devoured this book in a matter of a few hours, and am beyond excited that Lori has branched out in her writing to explore the world of urban fantasy. Fans of her work will be able to identify Lori's style, but also be drawn in by this addition to a different genre from what they are used to. And like most fans, I cannot wait to get my hands on the next installment. So if you've never read Urban Fantasy but have been curious about it, I think this is the perfect place to start. Or if you're a fan of Lori's traditional contemporary romances, you might want to give this book a try. I think Gaby and Luther will make it worth your while ;)

Labels: L L Foster, paranormals