Monday, April 16, 2007: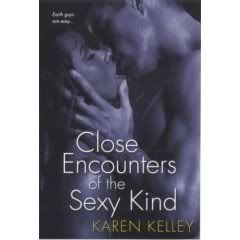 Paperback: 304 pages
Publisher: Brava (April 1, 2007)
Language: English
ISBN-10: 0758211724
ISBN-13: 978-0758211729
Sex with the perfect man is overrated, especially if your Mr. Perfect is a robot, and you know there's something better out there. Can Mala help it if "out there" is way out there? Her grandmother, an intergalactic traveler, left a diary behind describing the exceptional lovemaking talents of Earth men. There's also a documentary that depicts a comely young woman and a rugged-looking person she calls "Sheriff." There are no Sheriffs on Mala's home planet. Solution? Head for Earth and get one of her own...
Sheriff Mason McKinley is having one hell of a week. First, the local conspiracy theorist called a bunch of reporters to town in search of Bigfoot, and now he insists he's seen a UFO land out near Devil's Bend. But when Mason rides out to investigate, instead of little green men, he finds the sexiest woman he's ever laid eyes on. Though Mala's odd behavior—an obsession with the naked channel, straightforward offers of sex—might have something to do with amnesia, what red-blooded American male wouldn't feel lucky? Still, Mason doesn't want to take advantage of a lost soul...however much she wants to be taken advantage of…
Mala lives on the perfect planet of Nerak, where there is a perfect smoothie for every mood, illness or problem, male robots for perfect sex, Elders who provide the perfect guidance, and oh yeah, no men to start wars. But all this perfection has Mala bored out of her mind and longing to find something that isn't so, well, perfect. Armed with her grandmother's diary and a strong case of wanderlust, Mala decides to head for planet Earth for some excitement and adventure. She only plans to be gone a few days - as distant traveling is forbidden - no one will even know she's gone.
Ha! We all know that for the lie it is because otherwise there would be no book! Mala is momentarily dazed by earth, then completely enthralled. Even the difficult stuff is a joy to her because it's "different". Mason is a lot like the sheriff in her movie, and thinks she's an illegal alien from Sweden instead of the planet Nerak. Her lies of omission combined with his willingness to believe are the perfect recipe for some funny moments as Mala acclimates herself to the ways of planet Earth. And of course, Mala and Mason are instanteously attracted to each other, and have unbelievably hot sex almost immediately.
Eventually though, her world catches up with her, and it's only a matter of time before she must go back or run the risk of being caught by alien hunters. By now, she's fallen hard for Mason, and for the people she's met on this amazingly messy and complicated planet, yet she wouldn't have it any other way.
Mason's a good guy who's finally found the woman who breaks through his solitude and makes him think of family and commitment. He loves the people in his town, is proud knowing he's trusted by them to protect them, but deep down he's always known he's wanted more. But the traditional women of his small Texas town don't make him feel the way Mala does, and if he can convince her to stay, maybe she'll give him the happily-ever-after he never knew he actually wanted before.
A bit of a warning: despite the steamy cover of the couple kissing, it's more of a light, fluffy read than an intense romance. While there are moments of incredible heat between Mala and Mason, it's less dark and serious then it would appear to be. I would have like to have seen more angst in this book, but I enjoyed it all the same. I loved Mala's reactions to things like chocolate(!) and alcohol, and Mason's enchantment with her. Mala's also not stupid, and has a rather strong independent streak, which made me like her even more.
Plus, Karen Kelley fans will easily recognize her trademark sassy humor in her latest release from Brava. CEOTSK is a fun and hot read that will simultaneously have you laughing and turning up the fan from all the heat between Mala and Mason. I am actually looking forward to the next installment.
Labels: CEOTSK, Karen Kelley, reviews