Thursday, March 29, 2007:
....is the movie "French Kiss" (1995) starring Meg Ryan and Kevin Kline....
Plot Synopsis: Kate (Meg Ryan) and Charlie (Timothy Hutton) have a perfect life planned out before them: buying a house, marriage, kids, the whole works. Kate's fear of flying keeps her in Canada while Charlie goes to Paris for a medical convention. While there Charlie is smitten by the lovely Juliette (Susan Anbeh). He calls off the wedding with Kate and she nervously boards a plane to get him back. She ends up sitting next to the petty French thief Luc Teyssier (Kevin Kline). He hides a stolen necklace and smuggled grape vine in her bag to get it through customs. Her bag is stolen, the necklace is lost and Kate and Luc head to Cannes to find the necklace and get Charlie back. Along the way, Kate and Luc begin having feelings for each other which changes the course of their lives.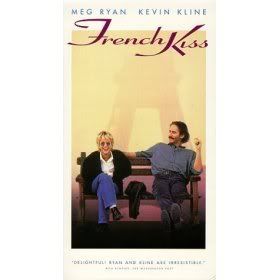 Sounds a bit like a romance novel, huh? I LOVE this movie. It's not a classic, won't ever win any awards, it's a bit clunky and uneven in places, but it hits me right in the marshmellow fluff heart whenever I watch it. It's the one guilty pleasure that I never get tired of. No matter how many times I've seen it, I still get all melty - I mean, that kiss on the train alone is worth the entire movie. Plus, I like Meg Ryan, and Kevin Kline is a sexy bad boy Frenchman in this movie, so it works for me on a lot of levels. And seeing Jean Reno in a light-hearted role after his stint in "The Professional" is a lot of fun.
How much do I love this movie? Whenever I'm flipping channels and I come across it, that's it - I'm incommunicado for a couple hours. Okay, more like 1 1/2 hrs. I have the VHS and the DVD, so if I ever need a fix beyond cable, it's covered, baby. And I don't even bother fast-fowarding - I like to watch the whole damn thing, beginning to end. It totally works for me.
Do you have a guilty pleasure? And that would be???
Labels: "French Kiss", guilty pleasures