Wednesday, March 14, 2007: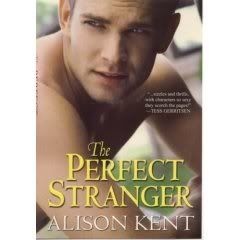 As many of you already know, author Alison Kent is doing a cool blog contest, and I was lucky enough to be included in the fun. She was even gracious enough to grant me a mini-interview :)
In order to be entered into the contest, all you need to do is leave a comment between now and noon CST on Saturday, March 17th - St. Paddy's Day - and a random drawing will be held for a copy of Alison's latest book, "The Perfect Stranger", which is due out March 27th. Good luck!
************
SA: You write romance but do you consider yourself a romantic, or someone more practical? Do you believe in Love At First Sight?
Alison: I think I'm more practical, though I want to be a romantic, and I hope they're not mutually exclusive! I don't live with my head in the clouds where life is beautiful all the time, but I like to pretend that I do. I once had a friend tell me I analyze things too much, and I'm definitely a list maker, so I do have a ridiculously wide practical streak. But I don't let that counter the idealistic part of me. And I'm not sure if it's love, but I definitely believe in chemistry at first sight, that connection that has no explanation.
SA: Do you have a favorite hero of yours or one that stands out above the rest?
Alison: It's got to be Patrick Coffey from INDISCREET, my January 2004 Blaze. He came out of nowhere when I was writing BOUND TO HAPPEN, and that hero, Ray Coffey, Patrick's brother mentioned him. He never went away, and I finally had to give him his story. Kidnapped by Caribbean pirates and held hostage, only to return and fall for an older woman and have the original threat follow him? I loved that story. Loved it. And am still amazed I wrote it!
SA: What is your favorite type of heroine?
Alison: For me to love a heroine, whether I'm writing her or reading about her, she has to have what my husband calls "snap." She's in the moment, aware of what's going on around her and in the world, doesn't live only in her head, has a real life with friends and interests that make her a whole person. And then when the hero enters her life, that whole grows even larger and complete in a way she'd never imagined possible.

~Thank you Alison ~

*************
"I've already recommended you to my customers, but I've just thought of some others who I've turned on to Cherry Adair, Suzanne Brockman, AmyFetzer, Cindy Gerard…the women writers who construct great adventurenovels with fierce romances attached…that I'll have to turn them on toyou, too." — Lee Ann Daugherty, Romance "Mistress", Waldenbooks #1393, Elizabethtown, KY
*************

Some like it hot. The men and women of Alison Kent's sizzling SG-5 series like it hotter. In this all-new novel of steamy suspense, the jungle is the only place wild enough for a hotshot helicopter pilot and a renegade rich girl with one hell of an agenda…
Bachelor parties are fun, as long as you're not the poor sap getting hitched…or slipped a Mickey and waking to discover you just became the poor sap. Not to mention that your "wife" is pregnant, and if you don't go along to her village to meet the in-laws, the nice police comandante will be muy unhappy. Just another day in the life of helicopter pilot J. Jackson Briggs? Not so much. His Smithson Group gig wasn't supposed to be dangerous, but the the woman who drugs him, then knocks him out, then drugs him again certainly is. She also may or may not be a nun. She's definitely a lying, scheming, lethally gorgeous…American. Jack's light years from believing the story Jillian Endicott gives him about her noble cause in the sweltering wilds of San Torisco, but he knows one thing: he'll get the truth—and plenty more—from her, one way or another…

Being an Endicott of the Boston Endicotts taught Jillian plenty about the haves vs. the have-nots—and made it easy to choose sides. But there's nothing easy about her mission in San Torisco, and things only get harder when Jack Briggs is thrown into the mix. Six-foot-three of big Texas mouth and big…other things…Jack's pegged her as a bored little rich girl. Hey, he can think what he wants, as long as he does what she wants. Do unto others what needs to be done—that's Jillian's motto. Problem is, Jack knows how to push her buttons from minute one—and the closer he gets to pushing her over the edge, the more she wants him to…

Now under dark velvet cover of jungle nights, two rebels with a cause are going deep—and falling hard—for the perfect stranger…
*********
Excerpt from "The Perfect Stranger":
A price on her head.

The woman had a price on her head.

Someone wanted Jillian Paige Endicott to die.

His lungs aching to burst, Jack jetted off the sandy rock bottom of a river so clear he could see the wrinkles on his wrinkles. He surfaced, spewing and sputtering and shaking like a dog, shivering as he slicked his hair from his face.

The water had loosened most of the scab on his nose, leaving a patch of raw skin. Should he survive this nightmare, he would never forget the hell of it thanks to the souvenir he'd be sporting for the rest of his life.

Good thing chicks dug scars.

His reflection on the water's surface mocked him with the same ugly mug he'd been living with for thirty-nine years—the one he avoided looking at in the mirror when he took a pee in the mornings, shaving blind when he bothered to do more than buzz an electric razor over his face.

Leaning back, he kicked his feet and floated naked atop the lazily drifting water, running his thumb over the gold ring that still weighed down the third finger of his left hand, a reminder that he was here against his will, and that if he tried to leave there was a hella good chance he would never see a dollar of his pension.

He knew all about facing death, seeing death, causing death, and he wondered how Jillian felt knowing the government of the country she had dedicated her life to serving had marked her to die.
Doesn't it sound great?

Labels: Alison Kent, contests, Perfect Stranger