Wednesday, August 02, 2006: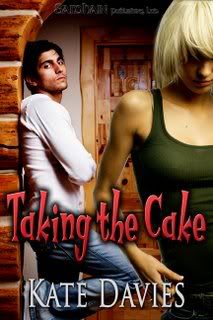 Taking the Cake by Kate DaviesISBN: 1-59998-079-7Price: $3.50Genre: Contemporary Erotic RomancePublication Date: August 2, 2006
A walk on the wild side with her favorite bad boy is just what this good girl needs!
Mollie Mason is sure her night can't get any worse. Stuck in an inflatable rubber cake, she overhears her fiance slamming her to the entire guest list of his bachelor party and then she catches him cheating! But discovering her high school crush has witnessed her humiliation is the icing on the cake.
Cade Gallagher has wanted Mollie for years. And when she asks him to help her prove to the world and herself that she's not just a good girl, he knows he'd be a fool to say no. But she wants a temporary fling. Will two weeks be enough time to convince her to take a chance on him forever?
***********
I "met" Kate Davies on-line, at Lori Foster's Yahoo group over a year or so ago, and at that time, she was an aspiring writer. As time went by, Kate continued to write, and each success she shared with the group was an exciting moment, whether you were a reader or a writer. I felt like I was living vicariously through her, and her enthusiasm for writing romance was contagious. Kate is a genuinely sweet person, and I'm so glad that her dream has come true with the release of her first story, "Taking the Cake".
Kate was kind enough to share an excerpt from her story, and I must admit that it is one of my favorite plot lines. And isn't this just an awesome cover? I think all the heroes should look as good as this guy. Let's hear it for Kate!
****************
Excerpt 2 :Taking the Cake
2006 Kate Davies
"You okay?"
Cade's eyes were warm and concerned, looking right at her in a way she couldn't remember ever having experienced before. Even Blaine had only listened to her with half his attention, the rest focused on who was in the vicinity, people he could schmooze, and his next deal. How pathetic was it that she'd never noticed that before tonight?
"I'm fine," she said, tossing her hair back in an approximation of bravado. "Never better."
He just looked at her steadily, not saying anything, his chocolate eyes unwavering.She glanced away. Humiliated. Angry. Numb.
"Brokenhearted?"
Mollie looked up at that. Was he watching her a little more closely for the answer?
"Not particularly. I think I've known for a while things were bad. Maybe not this bad, but bad enough." She traced a circle in the puddle left by her glass of ice water. "At least I found out before the wedding."
Cade nodded, still giving her time and space to work out what she wanted to say. God, the luxury of being able to finish her own thoughts without being interrupted or corrected.
"I need your help, Cade."
The statement clearly surprised him almost as much as it surprised herself.
"Anything." He reached over and covered her hand with his. "Whatever you need."
"I need" She swallowed past the sudden dryness of her throat. Was she really going to go through with this? "I need you, Cade."
He stilled, his hand tightening on hers for a moment. "What exactly are you asking, Mollie?" His voice was low and rough, and a shiver of anticipation thrilled down her spine.
"I think you know." Did she have to spell it out for him? This was difficult enough as it was.
His other hand reached over and grasped her chin gently, lifting her head so that their eyes met.
"Why?"
"Uh..." Oh, smooth, Mollie. Way to impress him with your winning arguments.
"Mind you, I?m not saying no," he continued, still holding her gaze. "I just need more information."
Mollie nodded. Best to have all the facts on the table before making a decision. "Blaine said some horrible things about me tonight, Cade. I want to prove that they're not true."
"I see."
Did he really? She rushed on, before she could lose her nerve. "He said I was boring and frigid and clueless. And the other guys there agreed with him."
"Those idiots?" Cade grimaced. "?Hell, Mollie, they'd agree that the sun was purple if it meant free beer."
"I know." Mollie leaned forward. "But it still kills me that I've got that reputation. There's more to me than my job, you know. I'm an interesting person."
"I know you are."
"More than that, I'm a woman."
"I know that, too." His gaze dropped, slowly studying what he could see of her over the table. Her thighs flamed at the heated approval she could read in his eyes.
"I want to prove him wrong, Cade," she said hoarsely. "Will you help me?"
A flash of something close to disappointment surfaced in his eyes, but disappeared before she could focus on it.
"I see."
"I'm not the woman he described," she said, trying to erase the look in his eyes. "But I'm also not as uninhibited as I'd like to be."
"And you think I'd be the right person to help you explore that side." A frown creased the space between his brows.
"Well, think about it." She waved a hand at him. "You live on the wild side. You always have. I don't mean that in a bad way, just that you never put too much stock in convention or rules. Who better to help me break a few rules of my own? Plus, you're just in town temporarily, so we won't have to worry about any awkwardness. You know, afterwards."
He was quiet for a minute, lips narrowed. "I don?t know, Mol."
"Please?" She gripped his hand with both of hers, shocked at how badly she wanted him to agree. "I can't do this on my own."
He sighed, frustration oozing out of every pore. "It?s a nice idea, but..."
"Never mind." She dropped her half-shredded napkin on the table. "If you aren't interested, Cade, all you have to do is say so. I'm sure someone else would be happy to help me explore my wicked side. Maybe Junior, or, or..."
Whatever other name she was trying to dredge up was driven completely out of her head as Cade leaned across the table and planted a big, deep, thorough kiss on her. His tongue stroked into her mouth, setting nerve endings ablaze. Too soon, the kiss ended, Cade sliding back into his seat. He leaned toward her, elbows on the table, a hot possessiveness visible in his eyes that sent a shiver down Mollie's spine.
"No one else, Mollie," he said, his low voice a promise. "No one teaches you. No one touches you. Only me. 'Kay?"
She resisted the urge to touch her lips to see if they were as swollen and hot as they felt.
"But we do it my way," he said, laser-beam gaze still focused completely on her.
"Uh..."
"Good." He nodded as if she'd given full agreement. "We'll start with going to bed."
**********
Sounds good, doesn't it?????