Monday, July 24, 2006: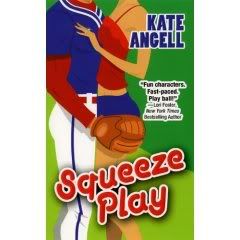 The Richmond Rogues have won the World Series. Most Valuable Player, Risk Kincaid, heads to his hometown of Frostproof, Florida. Once there, he entices coffee shop owner, Jacy Grayson, to move beyond his rebound lover and become his wife.
I'm leaving for Atlanta in the morning, but I'm leaving you with a contest to win this book by
Kate Angell
, the first in a series. (Check out a quick excerpt
here
). It's a fun, light read that just happens to be about a bunch of sexy baseball players. Nothing like a guy who keeps himself in shape ;)
So in order to qualify to win, I just ask that you post about your favorite sport, or, if you're not a sports fan, your favorite event: the opera, horseracing (is this a sport?), wine-tasting...whatever. Maybe share a detail about a specific favorite: seeing "Carmen" for the first time, watching your favorite horse win, discovering a new must-have wine.
ALL entries are welcome regardless where you live, one per person please, and the contest will
end Saturday, July 29th
, at midnight central time. Have fun, and as always, thanx for playing :)