Sunday, July 16, 2006: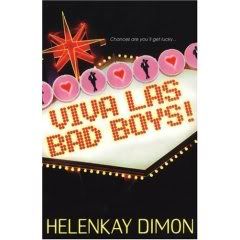 Paperback: 279 pages
Publisher: Brava (July 25, 2006)
Language: English
ISBN: 0758214766
"Jackpot": Accountant Laine Monroe is on a mission to help a client, which puts her in the path of sexy and smooth operator Jack MacAllister. Getting him to invite her to his room is like taking candy from a baby, but keeping him distracted long enough to search for clues proves to be a bit of a challenge when he's more interested in getting her out of her clothes. Laine proves to be rather inept at being a detective, which leads to some laugh-out-loud moments, but the chemistry between her and Jack is undeniable, and when the power goes out, locking them in the hotel room, clients and money are forgotten as they act on their strong attraction. But when the truth comes out, will they be able to forgive the other for the deception that brought them together? Well, of course they do, and that's always the fun part....
"Player's Club": Zach Jacobs is always cooking, whether he's in or out of the kitchen, and this drives consultant Jenna Barrister crazy, not that she's willing to show it. Her job is to get Zach to keep it in his pants for the sake of the Berkley hotel's image, even if it means following him around day and night. But the thing is, she gets why he's so popular with the ladies because he has the exact same effect on her. If he ever found out, well, she'd lose the upper hand..... Zach is aware of his player rep, and though he is responsible for creating the legend, he really can't take credit for the embellished rumors that follow him around, but he'll be damned to let uptight, sexy Jenna know that. She's already rejected his amorous advances, much to his frustration, and he's not about to let her lead him around by his...nose. Then the power goes out. Denied passion gives in to temptation as the dark lets them lose their inhibitions, and their hearts. This one sparks right from the get-go, and keeps fanning the flames of attraction until Zach and Jenna give into it. I love stories where the characters can't stand each other but who also can't keep their hands off each other, and this one delivers. Very sexy. My favorite of the three.
"Two of a Kind": Caroline Rogers is at the Berkley hotel on business. As a travel reviewer, it's her job to evaluate the places she visits under a cloak of darkness, which means she may have to be a little sneaky when it comes to getting the goods. Yet she's been caught by assistant manager Alex Mitchell, who lives and breathes for the Berkley, and who sees more of her than she intended, much to her embarrassment. Now she has to come up with a story he'll believe or risk getting thrown out of the hotel. But the blackout locks them in the spa area, and with the temperatures rising, they have no choice but to get more comfortable, and get Alex out of his clothes. A situation he's all for, especially if it means seeing more of the lovely Caroline. Their attraction is hot and instantaneous, and things sure are heating up in the steam room. Will they be able to stand the heat when Alex discovers who Caroline really is?
It was fun to read about some of the inter-workings of the hotel, and I give a lot of credit to HelenKay for not changing her characters so much that they were willing to drop everything to follow their lover around on a leash. I dislike it when a character, usually the heroine, quits her job to move hundreds of miles to live with the hero after only knowing each other a few days or even a few hours. Instead, their careers are taken into consideration, and the HEA for each story were much more realistic because of it, but no less effective.