Friday, July 07, 2006: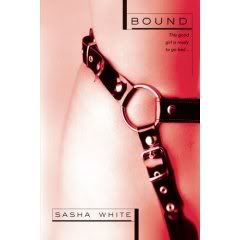 I'll be honest: when I first read the premise of this book by
Sasha White
, I took a pass. I like reading stories with subjects that interest or attract me, and the whole "master and slave" thing never flipped my switch, so to speak. But then I read a couple of really hot reviews, and my interest was sparked, so I decided to give it a try. At first glance, I felt that the cover of the book was sexy without being too "over the top". And that's a good way of describing the story as well.
Katie Long is one of those "good girls", the one that always helps her neighbors and has dinner with her mom and helps her friends with their problems. She's sweet, dependable, and in need of a traditional romance. Or so everyone thinks. What really does it for Katie is having a man take the control away from her and make her submit to his will. She didn't think she'd ever find a man like that until Joe Carson enters her life. Joe is a security guard at the casino where Katie works, and he's about to give her exactly what she wants. She will be his; she will do exactly what he wants, and Katie wouldn't have it any other way.
So as you can imagine, Katie embarks on a sexual relationship with Joe, one that satisfies them both. Katie is planning on leaving her small Canadian town for the city of Vancouver, so her arrangement with Joe suits her perfectly. While she may be giving him her body, she's not giving him her heart, and that is exactly how she wants it....or is it?
While the story didn't change my mind about the subject matter - not that I really believed it would anyway - I do have to say it was very sexy and not prone to the more extreme type of submission/domination relationships, which I was relieved to discover. Katie truly enjoyed being submissive to Joe. It excited her to have him in control. For once, she didn't have to be the one making all the decisions, or doing all the work. And what started out as a totally physical relationship became something more evolved. Both Katie and Joe cared for each other. That is what made it work for me.
Is the subject matter shocking? Not really. It's rather tame compared to some other stories I've read (and didn't like). But that's what was great about it. Some aspects of the sub/dom relationship delve into humiliation and pain, and that's not a story I want to read. It's not the type of story I can relate to and it's not one I would enjoy. I could read "
Bound
" and not be turned off by the subject matter. And while it may not be one of my turn-ons, it opened my eyes a little and I have to admit I can understand the appeal it has for some people. I just don't happen to be one of them.
And that's just fine. What I really got out of this book was how awesome it is that there are people out there who do have these types of fantasies and with their consent, as well as their partner's, they are acting on them and leading very fulfilling lives. And that's probably the strongest message I got out of it: discovering that side of yourself and embracing it without shame, without guilt. As long as no one gets hurt and those involved can and do consent, then it's okay. I think this is an important message for women, one that goes along with my post about women's health issues. We need to be more accepting of ourselves and each other, and be supportive, and know that deep in our hearts, there's nothing wrong with us.
It's not easy, because sometimes even our friends can make us feel like there's something wrong with some of our thoughts and opinions. Not one of my friends that I hang out with is a reader of romances. More than once I've been teased about my love of romances, and have even gotten a few looks...you know, the ones where they roll their eyes. And the thing is, I love to talk about what I'm reading, but I don't have anyone to share it with, unless it's my on-line friends. Thank God for the internet! LOL. And yet every once in awhile I am embarrassed to tell friends what I'm reading.
So pick up "Bound", and if nothing else, you might learn something new ;) Just remember that having fantasies is normal, and many of us have the same ones. Not all fantasies are ones we will or even want to act on - while being a part of the mile high club may sound exciting, the reality of it just doesn't seem very sexy to me. Yet it still sounds really hot, so that one will be one for the imagination, not for making memories. Sometimes the fantasy is all you need - it's not necessary to act it out to make it work for you. Sharing your fantasies can be fun, and bring you even closer to your partner. Now who doesn't want that? So go, go forth and fantasize ;)