Thursday, June 29, 2006: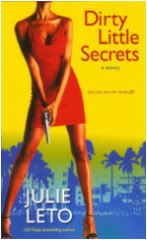 Okay, I've been procrastinating, and before I knew it, June almost passed me by! I said I was going to do a June contest, so here it is, better late than never. That's kinda become my motto recently. Yet we will not dwell on my idiosyncrasies, no, not when I have a contest to run.
So here it is: awhile ago, I won a wonderful prize from author
Julie Elizabeth Leto
; a signed copy of her book, "
Dirty Little Secrets
". It's a hot and steamy read, with a kick-ass, bad girl heroine who has lots of options (i.e.
men
). Marisela Morales, our heroine, even has her own
website
, so check it out if you want to read more. Everyone should have a little bit of the bad girl Marisela in them. I know I do (even if it's only in my head LOL).
Well, since I had this awesome book already, I wanted to hold a contest to win a copy of "Dirty Little Secrets". So with Julie's permission, I decided to make it a summer giveaway, because there's just something about hot and dirty that sounds, well, really sexy. The deal: all you have to do is... share a secret. It doesn't have to be a deep, dirty secret you've been keeping for years. It could be a fun secret, a sweet secret, or an outrageous secret. It doesn't matter to me. Maybe you work as an accountant by day and an exotic dancer by night. Or you won the lottery and spent all your money on expensive cars for a really hot guy. Maybe you write greeting card messages. Have an obsession for scary movies. Appeared in a music video. Whatever. Just a tidbit about yourself that you'd like to share with the group.
I'll go first: when I was 16, I took a trip to California and appeared in the audience of "Love Connection". It was a lot of fun to hear the stories, and yes, I really did get to push the button to vote. I think we watched 3 shows worth of taping, and Chuck Woolery was funny and even better-looking in person. I know I have mentioned it before, several times, in fact, so it's not really a secret, but it's the only interesting thing I could think of about myself. Yes, I am ever so exciting.
So please respond by Friday, July 7th, no later than 7pm Central Time. Saturday morning I will draw a random winner, and will make every attempt to send out the book by the following Monday. Just have fun with it, and thanx for playing! Good luck :)
**The 2nd book in the series, "
Dirty Little Lies
", is scheduled for an August 29th release date:**
Isn't this another hot cover? Oh, and if you want to visit another cool place Julie frequents, go check out the
Plotmonkeys
, where you'll chat with Julie and 3 other cool authors:
Janelle Denison
,
Leslie Kelly
, and
Carly Phillips
. It's a fun place to hang out :)