Saturday, July 22, 2006:
7/24/06: UPDATE: J.R. Ward has posted an excerpt for her Brotherhood series about Bella and Zsadist. Word of warning: contains explicit language, violence and sexual situations. But you have to register first ;) Check out "Slices of Life".
...for the Black Dagger Brotherhood! Yes, it's true, I have fallen under the spell of these fabulous books by
J.R. Ward
. At first I was resistent to the rave reviews I kept hearing, and the enamored fans who clamored for more, not because I don't like being a fangirl *g*, but because I wasn't thrilled at the idea of yet another vampire series. I was already a huge fan of Sherrilyn Kenyon's Dark Hunters, MaryJanice Davidson's Vampire Queen, and Shiloh Walker's Hu
nters. I didn't want to get caught up in yet another vamp series. However when a friend, who has similar book tastes to myself, gushed over them, I finally broke down, and gosh darnit, they are incredible!
What makes these books so successful, you ask? Well, I think it's the gradual build-up to the climax, and also the follow-through to the end. What I mean by that is J.R. Ward doesn't take the easy way out and paint you a sunny picture filled with pretty flowers where everything is pristine. No, she wades into the ugliness of death and loss, examines our faults and weaknesses, and has her characters living with the consequences with no hope of redemption. You see, the Brotherhood is cursed, each in their own way, and each brother must learn to live with their personal nightmare while trying to protect humans and other vampires from their enemies: the lessers. Even finding happiness with their chosen mate does not guarantee a happy ending, though, as fans of these strong but tortured brothers are learning. I won't give you any more detail than that - you'll have to read the books.....
BLACK DAGGER BROTHERHOOD
Published by Signet Eclipse
ISBN#0-451-21695-4
Publication Date: September, 2005
Book One

In the shadows of the night in Caldwell, New York, there's a deadly turf war going on between vampires and their slayers. There also exists a secret band of brothers like no other - six vampire warriors, defenders of their race. Among them, none relishes killing their enemies more than Wrath, the leader of the Black Dagger Brotherhood...

The only purebred vampire left on the planet, Wrath has a score to settle with the slayers who murdered his parents centuries ago. But when one of his most trusted fighters is killed- orphaning a half-breed daughter unaware of her heritage or her fate - Wrath must usher the beautiful female into the world of the undead…
Racked by a restlessness in her body that wasn't there before, Beth Randall is helpless against the dangerously sexy man who comes to her at night with shadows in his eyes. His tales of brotherhood and blood frighten her. But his touch ignites a dawning hunger that threatens to consume them both…
The series kicks off when a member of the Brotherhood is killed, one we don't really know very well, but we begin to respect him as Beth learns more about her father from his brothers after his death. Beth is totally unaware of what is happening to her, having never known her father or what the legacy is he leaves behind. Wrath is sworn to protect her, knowing she needs him in a way she couldn't possibly understand. So he grudgingly takes her into his care, and begins to fall in love with this brave, proud woman who isn't afraid to stand up to him, something not even another brother would even think of doing.
The first book of a series has a lot of expectations to meet while trying to set up the premise for the rest of the books. Here, we meet the cast of characters, learn a little of their background, and get an idea of their personalities. Sometimes it works, sometimes it doesn't. In this case, it more than works - it rocks. J. R. Ward has written such a compelling series that tugs at every emotion - I found myself alternating between laughter, rage, sorrow, and sighing happiness. And it was hard to put the book down. I'd find myself thinking about it while I was at work, wanting to get back to it and get caught up in their world instead of dealing with the ordinary details of mine LOL.
***I'm still not sure which brother is my favorite - each has their own brand of appeal. So far Rhage and Zsadist are at the top of my list because they seem to be the most tortured, and there is just something about a tortured hero that makes you want to take care of them and protect them and love them, though they'll fight you every step of the way. But who wants it to be too easy? Not me ;) ***
Published by Signet Eclipse
ISBN# 0451218043
Publication Date: March, 2006
Book Two

In the shadows of the night in Caldwell, New York, there's a deadly war raging between vampires and their slayers. And there exists a secret band of brothers like no other - six vampire warriors, defenders of their race. Possessed by a deadly beast, Rhage is the most dangerous of the Black Dagger Brotherhood...

Within the brotherhood, Rhage is the vampire with the strongest appetites. He's the best fighter, the quickest to act on his impulses, and the most voracious lover—for inside him burns a ferocious curse cast by the Scribe Virgin. Possessed by this dark side, Rhage fears the times when his inner dragon is unleashed, making him a danger to everyone around him.

Mary Luce, a survivor of many hardships, is unwittingly thrown into the vampire world and reliant on Rhage's protection. With a life-threatening curse of her own, Mary is not looking for love. Her faith in miracles was lost years ago. But when Rhage's intense animal attraction turns into something more emotional, he knows that he must make Mary his alone. And while their enemies close in, Mary fights desperately to gain life eternal with the one she loves…
Ah. Rhage. The gorgeous one. The passionate one. The one every woman wants. Rhage has an insatiable need inside of him that must be assuaged, and he has limited resources for taking care of it. He is never far from the beast, always left with an edge that can never be fully satisfied and a soul that is never at peace. Until Mary.
Mary is a human who is thrust into Rhage's stratosphere, and once there, he is not willing to let her walk away from him. She can't believe such a beautiful man would want to spend time with someone who is not well, but he refuses to leave her alone, even after she sees what he is capable of. But now her life in danger because of what she's seen, and has no choice but to let Rhage protect her, even if it's against her will, and her better judgment. But the torment living inside this warrior calls out to Mary, and soon she can no longer be apart from him. Will she still be able to stand the sight of him when his other side is revealed? Well, of course she will. But everything has a price, and Rhage and Mary have no choice but to pay it, if only to save the other.
Here we really get to know the brothers, and I don't know about you, but I fell in love with each and every one of them. (As I mentioned earlier, the jury is still out on who's my favorite, but you know, I may decide I don't have one, and just love them all - why choose?) And we really begin to see how the curses have been dealt, and how payback is a bitch, and no one gets to walk away from their fate without earning some painful scars, especially through the heart. Rhage's curse has an expiration date, however that doesn't mean it won't continue to bring him pain, especially when he pleads to a higher power for Mary's sake. It's the "be careful what you ask for" syndrome, and one that doesn't have a quick and easy cure. That's what gets to me and keeps the stories stuck in my head - the HEA is not without its stipulations. It's as unpredictable as real life. And I'm hooked. I'm just sorry I have to wait so long(!) for the next one. September seems like an eternity away.
***********************
Here's a taste of the future.....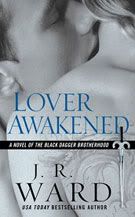 Book Three: Zsadist's Story
ISBN# 0-451-21936-8
Coming September 5, 2006

In the shadows of the night in Caldwell, New York, there's a deadly war raging between vampires and their slayers. And there exists a secret band of brothers like no other - six vampire warriors, defenders of their race. Of these, Zsadist is the most terrifying member of the Black Dagger Brotherhood.

A former blood slave, the vampire Zsadist still bears the scars from a past filled with suffering and humiliation. Renowned for his unquenchable fury and sinister deeds, he is a savage feared by humans and vampires alike. Anger is his only companion, and terror is his only passion—until he rescues a beautiful aristocrat from the evil Lessening Society.

Bella is instantly entranced by the seething power Zsadist possesses. But even as their desire for one another begins to overtake them both, Zsadist's thirst for vengeance against Bella's tormentors drives him to the brink of madness. Now, Bella must help her lover overcome the wounds of his tortured past, and find a future with her…
Ooooooh! Zsadist! You are so bad for making me wait! But I know you'll be worth it ;)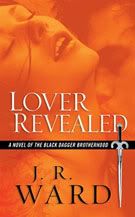 Published by Signet Eclipse
Coming March, 2007
Book Four

In the shadows of the night in Caldwell, New York,there's a deadly war raging between vampires and theirslayers. And there exists a secret band of brotherslike no other - six vampire warriors, defenders of theirrace. Now, an ally of the Black Dagger Brotherhood will face the challenge of his life and the evil of the ages.

Butch O'Neal is a fighter by nature. A hard living, ex-homicide cop, he's the only human ever to be allowed in the inner circle of the Black Dagger Brotherhood. And he wants to go even deeper into the vampire world- to engage in the turf war with the lessers. He's got nothing to lose. His heart belongs to a female vampire, an aristocratic beauty who's way out of his league. If he can't have her, then at least he can fight side by side with the Brothers...
Fate curses him with the very thing he wants. When Butch sacrifices himself to save a civilian vampire from the slayers, he falls prey to the darkest force in the war. Left for dead, found by a miracle, the Brotherhood calls on Marissa to bring him back, though even her love may not be enough to save him...
Butch, you've managed to get the respect of the Brotherhood. However did you manage that? Oh yeah, it's what you did in book #1. No, of course I didn't forget. You're right; I should probably go back and read it though...
And check out J.R. Ward's website for J.R.'s "interviews" with the brothers. Are they hot or what?!