Monday, July 31, 2006:
Wednesday: Beth and I got up early, but not too early, and headed to the food court for breakfast, where we once again ran into BadBarb and her posse. I learned that I could become addicted to raspberry-mango smoothies, and that I can only walk so far before I have to sit down for 1/2 hour. Beth and I went back to Underground Atlanta, where she got a really cool hat that said "LadyB", so of course I had to get one, too, because I am such a blatant copycat, but I waited at least an hour while we had lunch at Johnny Rocket's, which is a really fun diner where you feel like a celebrity when you walk through the door. Then we went back to get my hat. I was planning on having it say "Stacy ~" with that annoying little tail I use as my sig line, but alas, that symbol meant something at MonogramExpressions (?) and I settled on a pretty star instead.

We then walked around awhile. One thing I noticed about Atlanta was that it was very easy to find a police officer - they seemed to be everywhere. Case in point: Beth and I were sitting down talking on a park bench in front of an office building, and a man, who obviously worked there because he had an I.D. badge, came up to us and asked if he could tell us some jokes. We said "sure", though I think Beth is much friendlier than I am (I immediately think wacko, whether it's warranted or not). So Mr. Comedian proceeded to share with us his idea of a joke. The only thing I can remember is that he was really loud. Well, anyway, he must have pulled this stunt before because after a few moments one of the police officers comes over and said comedian immediately tells the cop that he had asked our permission first. All I can say is "thank you, officer".

It was rather a lazy afternoon, but we were saving our energy for the Literacy signing, which started at 5:30pm. We got in line probably around 5-ish, and the line was already quite long. The loud buzz of excitement was in the air, and I was anxious to experience the phenomenon of the Literacy signing. Once the doors were open, it was a free-for-all. Where to go first? I can't even remember, but I did have 5 books I brought to be signed, so that was my first mission. I must admit though, I wandered around in a daze for about the first 20 minutes before I finally followed my game plan. I mean, come on, how could I not be a total dork and just gawk for at least a few minutes? Impossible....
Nora! Or maybe JD Robb? Yes, I was just about thisclose to the legend....
One of the first people I had to meet was
Vivi Anna
, who is so extremely cool and sweet. She signed my copy of "
Hell Kat
", which I will cherish forever *g* I then asked her if she had seen Queen Bella
Michelle Buonfiglio
, and at the time she hadn't. We were both convinced there was no way to miss her, being carried around by many naked and hot Italian men, because how else would a queen get from point A to point B? I then stopped by
Monica Burns
to have her sign my copy of "
Forbidden Pleasures
". I don't think she knew I was a fellow Bella, but that's okay - the lady was in demand and I was not about to stand in her way LOL. She was very nice and I enjoyed chatting with her for a few moments. Trying to keep in alphabetical order, I next traipsed over to
Jennifer LaBrecque'
s area to have her sign 3 copies of "
Highland Fling
". I loved her blonde and red hair, and she was really fun to talk to. I told her how much I adored "
Daring In the Dark
", and we oohed and aahed over that cover, which is just gorgeous. If you haven't read about sexy Simon, you must. He is to-die-for. Whew! All five books signed: mission accomplished! (Okay, sorry folks, but I'm not doing any more links - it takes forever!)
Sure, it's the side of Linda Howard, but it's a side we recognized through the rest of our time at RWA as there were many similar LH sightings....
Next up was visiting Julie Elizabeth Leto, Plotmonkey and fabulous Blaze author. She gave me a big hug (yeah she loves me) and we chatted for a few moments before I gave up the spotlight to someone else. I then had to stop and say "hi" to Jill Shalvis so she could pass that along to Lucy Monroe. Jill is so funny, yet kinda quiet, and I liked her immediately, until she had to go and take my picture. The woman can eat more cookies and still look great - I think I could hate her LOL. By this time I started to just go around in random order, stopping by the gorgeous and glowing Janelle Denison's table - another sweet lady - and gushed to Kimberly Cates over her book "Gather the Stars" - one for the keeper shelves. She was next to Dianne Castell, a dear, dear lady. And of course I couldn't miss this chance to meet Karen Kelly, who wrote the fabulous "Hell on Wheels". And I can't forget to mention Sylvia Day, who wrote "Bad Boys Ahoy" and just had "Ask For It" released, but it wasn't at the signing (I managed to nab the last copy at the B. Dalton in Peachtree Court, just missing her - she stopped by to sign their stock).
Stephanie Laurens wrote one of my favorite historicals "A Secret Love"...sigh....
Gosh, there were so many other lovely authors: Eve Silver, Michelle Rowen, Suzanne Enoch, Sasha White, my buddies LuAnn McLane, Janice Maynard and OMG, Erin McCarthy! I hope I didn't miss anyone - there were so many amazing writers there. So what if I sound like a total fangirl!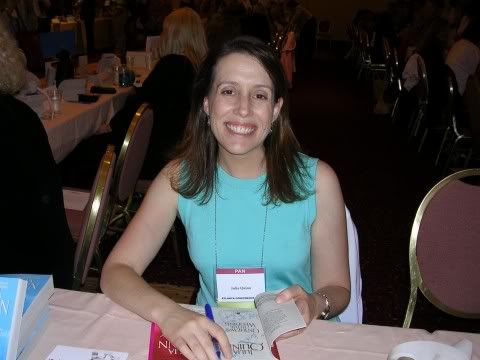 Everytime Julia Quinn was alone (Gasp! The insanity!) I would try to stop by and chat but someone always beat me to her. She also wrote some of my favorite historicals: "The Viscount Who Loved Me" and "When He Was Wicked" from the Bridgerton series (for those few who don't know that).
Oh, what a glorious night! I heard RWA raised $62,000 for Literacy that night - amazing. Readers and authors are such generous souls. After sitting in the outside area after buying our books, a group of us chatted and cooed over our purchases, and some immediately started reading their treasures (LadyB couldn't put "On The Way To the Wedding" down). Then we headed back to our hotel and ordered pizza - nothing was to interrupt some much needed reading time: Beth with "OTWTTW" and me with Erin's "High Stakes", which is soooo good, btw. A great way to end the evening :)