Sunday, July 30, 2006:
(I am too lazy to post it all in one big monologue, so here it is, broken down. And no, I have no juicy gossip to share...okay, that's not 100% true, but since it hasn't been confirmed, I will keep mum on gossip stuff).
Ah, it was such a blast! The week flew by, and there was lots to see and do, but I only will hit on the highlights. I'm going to say right now that all pictures taken are on someone else's camera since I didn't even bring mine. But once I get the links I will post the best ones.
The classy LadyB, aka fellow stalker
Tuesday: woke up early to catch a 9:12am flight. Since I still had to pack, I got up around 5:30. Caught the bus to the airport, and was there early enough to eat, which was a very good thing, and then ended up having to go to another gate. Got on the plane. Waited. A rather distracted lady ends up sitting next to me, but she's preoccupied with her belongings and getting settled so I kept reading my magazine. The plane was delayed at it was being fueled, and passengers were getting restless. Me, I just settled in with my fluff mag and felt relaxed. Finally we got underway. Not being the best flyer, I can feel my heart picking up speed, but it was a smooth take-off. About 3/4 of the way into the flight I finished my magazine and pulled out a Linda Howard paperback, which said lady notices. "Oh, do you read romance?" she asks, to which I mumbled something since I usually get such weird reactions to that question. She gets up to go to the restroom and the curiosity was killing me so I asked if she was going to RWA. She was, then she asked if I was a writer - I'm not. Was she a writer? "I'm
Jill Monroe
", to which I reply "Oh, you're
Gena Showalter
's friend!" Yep, that's what I said. Fortunately Jill just laughed, and told me she was also on the plane. Then she showed me her shirt that said "I am Jill Monroe" and said Gena was wearing one that said "I am Jill Monroe's friend". When we landed, she introduced me to Gena, who sure enough was wearing that t-shirt. Both ladies were very sweet and gorgeous (hate them! LOL), so there I was, walking through the airport with 2 romance authors in search of the baggage claim area. Let's just say the Atlanta airport needs a few more signs! We found the carousel, and as we waited for our bags, my friend and fellow BookJunky Beth (aka LadyB) found me, then my bag showed up, so I waved good-bye to my new friends, and we were off!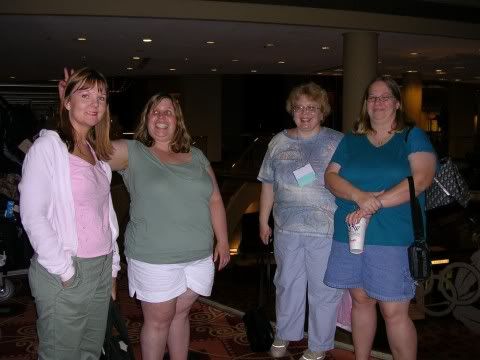 me, BADBarb, Patti, Heather

Beth and I checked into our hotel, and then decided to go check out the action. We ran into some people we knew at the food court - BadBarb, Mary F., Heather - and chatted with them for a bit. I had Chick-A-Fil-A for the first time - it was good (proof as to why I'm not a writer - no imagination). Then we all headed out to Underground Atlanta and the Coca-Cola Museum. You see, our friend Barb is a Pepsi addict, and it was our mission, as her friend, to show her the errors of her ways. Despite some resistance, we managed to drag her, um, convince her that she needed the intervention. She did quite well, didn't melt or anything, and it was a shining moment. I loved learning the history of Coke, and though some significant information is left out, such as the whole cocaine thing, it was still interesting. And it was fun to try the different flavors from around the world. Who knew there were so many? I also learned that the word "enjoy" is "nauti" in Finnish. I like it.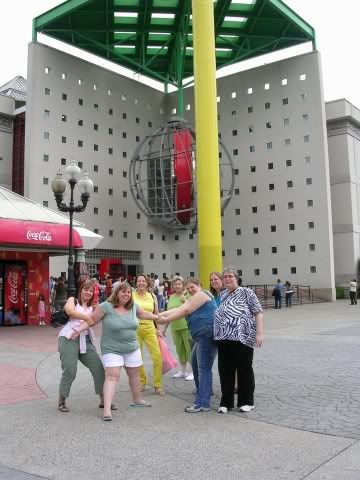 me, BadBarb (resisting her intervention) , AnneMarie, Jan, Mitch, Heather, MaryF
Afterwards we walked around Underground Atlanta and did some shopping. I'm not a big souvenir shopper, plus I wanted to save room for the books I would buy at the Literacy signing. We headed back to the hotel with the hopes of running into more authors. I saw
Marjorie M. Liu
and
Maggie Shayne
, and we ran into our friend
Erin McCarthy
, who is always so much fun and just laughs when we scream "OMG, it's Erin McCarthy!" whenever we see her. Then we walked down the street to have dinner at Gibney's Pub, which was really loud and smoky and the food was good but took forever...well, mine did, and I was soooo hungry I was tempted to steal the food off of everyone else's plate. Beth and I were fading out around 11pm, so we decided to go back to the hotel and get some sleep. This just proved to me that I am a lazy, out-of-shape bum. More later....