Saturday, June 26, 2010: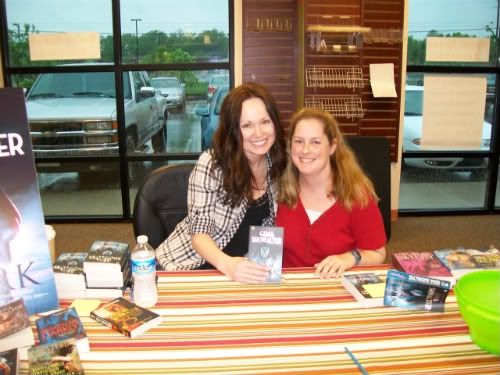 I've known Liza online for awhile, and was very lucky to meet her in person around Memorial Day last year when she came to Chicago. I had fun hanging out with her, parading down Michigan Avenue and hitting Border's. Then eating at PF Chang's - YUM. Liza is really sweet and has read a ton of books. And I'm thrilled to have her visit this weekend :)
Stacy: Feel free to tell us about yourself: name, background, etc. Are you a reader/blogger/writer?

My name is Liza and I live in Nashville, TN. I'm currently single and waiting for my Mr. Right.

I would say I'm a reader first, and only in the past year become much better about blogging, which is helping me to be a better writer…I hope.

Stacy: Do you have a blog? What is the name/link and how would you describe your blog?

Yes. My blog is called Blogging by Liza (not very original, I know, but didn't know much about blogs when I started). Here is the link http://lizasblog-liza.blogspot.com/.

I started my blog to keep up with all the books I read each year. I try to post about books as soon as I finish reading them, but usually have a finished stack before I post. Most of my entries are about books, but I started posting about my life a bit more in the last year, as well as TV, movies, and my TN Titans. So I guess I would say my blog is a bit of a hodge-podge of books, television, movies and my life.

Stacy: What book(s) are you currently reading? Would you recommend it?

I'm currently reading Night Keepers by Jessica Andersen. I'm early into the story, but really like it so far and would totally recommend it. I've also just started reading KT Grant's Lovestruck (ebook).

Stacy: What is your most anticipated soon to be released book?

Gena Showalter's The Darkest Lie (06/29/10), Leslie Parrish's Cold Sight (7/6/10), Ally Carter's Only the Good Spy Young (06/29/10), and Carly Phillips's Kiss Me If You Can (7/27/10) Also really excited about Larissa Ione's Sin Undone (8/24/10), Silver James's Faerie Fire (9/17/10), and Carolyn Crane's Double Cross (9/28/10)

Stacy: What's playing nonstop on your iPod rotation right now?

I'm totally in love with the Wicked soundtrack and all the music from the TV show Glee. I've also been listening to lots of country music lately. I especially love Keith Urban, Brad Paisley, Lady A, Kenny Chesney, and Miranda Lambert.

Stacy: What are your favorite places to visit online?

I have many blogs I follow daily, but the ones listed below, along with twitter (mslizalou) and facebook are my guaranteed stops each day:

http://jillshalvis.com/blog/

http://trelainastarblazer.blogspot.com/ [Yay! LOL]

http://www.silverjames.com/

http://alannahlynne.blogspot.com/

http://www.plotmonkeys.com/

http://hangingwithbells.blogspot.com/

http://www.murdershewrites.com/

http://authorjuliejames.wordpress.com/

http://wendythesuperlibrarian.blogspot.com/

http://kbgbabbles.blogspot.com/

Stacy: What are some of your favorite things: beverage? food? t.v. show?

I'm completely addicted to Diet Mt. Dew. I'll pretty much drink any diet soft drink with the exception of Diet Pepsi, which tastes like flat Diet Coke to me. If we are talking an adult beverage, I'm good with a nice glass of red wine or a light beer. My favorite beer (not light) is Blue Moon with an orange wedge.

My dad's homemade pizza is probably my favorite food ever. If eating out, I am always happy with Mexican food, Italian food, sushi, or a cheeseburger.

I have lots of favorite tv shows (of course several ended last month). My must see shows each week are Castle, Big Bang Theory, How I Met Your Mother, The Biggest Loser(my one reality show vice), Grey's Anatomy, Glee, NCIS, Cougar Town, The Mentalist, Chuck, Gossip Girl, Royal Pains, and Bones. I don't get to watch all of them each week, so my DVR always has something ready for me to watch. Right now I have almost the entire final season of 24 waiting for me as well as the final episode of Lost waiting to be re-watched over and over again. Also need to catch up on True Blood On Demand-HBO.

Stacy: Which hottie out there is to die for?

Some of my favorite hotties right now are Gilles Marini, Joe Manganiello, Hugh Jackman, and Ryan Reynolds. All so very yummy!!!


Stacy: Favorite restaurant?

My favorite "chain-type" restaurant is Maggiano's. I could probably eat there every week and never get tired of the food. My favorite local restaurants are all owned by my friends and located in downtown Franklin , TN. Red Pony is an upscale American-fare restaurant, Sol is an authentic Mexican restaurant, and 55 South is a Cajun restaurant, so I can pretty much eat anything I want at any given time.

Stacy: What is your idea of a romantic gesture from your sweetie?

Currently single, so no romantic gestures coming my way right now. I think helping to take care of the everyday stuff is the most romantic, not that a fancy dinner out isn't wonderful too. ;)

Stacy: What would people be surprised to learn about you?

I'm extremely shy when I first meet people for the first time in person. Going to RWA in July is going to make me step outside my comfort zone in a big way. However, I have no problems talking to perfect strangers in bookstores to offer up books to read or get reading suggestions.

Thanks for asking me to be a part of your guest blogger series. Liza
Thanx Liza! It's been such a pleasure having you here, and between you and another Tweep, thank you for the heads up on Joe Manganiello ;) I wish I was going to RWA this year :( But next year I hope to see you again!
Labels: guest blogger, online friends