Friday, June 18, 2010: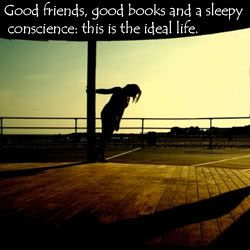 Well I have to admit I'm quite pleased with how the guest interviews are going, and I'm having quite a bit of fun putting them together. Upcoming posts you can expect will include Katiebabs, Susi Sunshine, Liza, Limecello, and Sagi, with more on the way. I might change up the questions a bit, nothing too major, but just to keep it fresh. I hope you all are enjoying it as much as I am. I love getting to know everyone even more. Even though some people might be more open than others, I think I'm still learning new things about everyone.
Nothing major going on this weekend. I plan to have a Mercy Thompson reading marathon, having just gotten the first 4 books in the series. Really looking forward to that.

Updated to add:

some darling friend on Twitter sent me the ARC for Chloe Neill's Twice Bitten! So plans have changed. I'm gonna sink my teeth into some vampires ;) Oh, and Gerard Butler. Have at least 2 of his movies to watch this weekend. Not a bad way to pass the time.
Here is the final collection of pennies. So far the total hasn't been tallied (I just took this picture) but hopefully next week we will find out. These are pretty big jars, and they're very heavy, so I hope the $$ count is fairly high. Thank you again to those of you who sent me pennies. Y'all gonna make me cry for being so sweet.
That's about it for now. Tonight me and my coworkers are going to go and ruin the week-long healthy eating marathon we've been on, and I sooo cannot wait *g*
Any big weekend plans?
Labels: ramblings