Monday, June 29, 2009: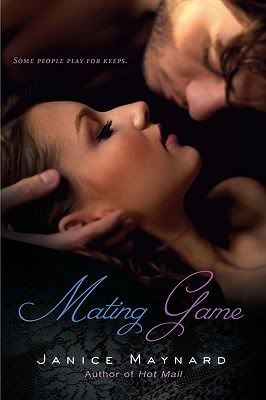 Nola Grainger needs a man...and fast. Her grandmother has left her everything in her will, with one small catch: Nola has to be married within a month. But if she's going to get married, she wants it to last. And for her, that means finding a man with as much passion as she has—who can take care of every desire, every day.
Nola finds three prime candidates: her high school sweetheart Billy, hard-dealing businessman Marc, and sexy handyman Tanner. Trying out three very different—and very desirable—men proves to be more fun than Nola imagined. But she never thought it might prove fatal.
Because someone in town is dead set against Nola sticking around. And with three new men in her bed, the danger might be closer than she thinks...
Nola Grainger is living a great life in Chicago. She's built her photography business into something to be proud of, she has wonderful friends and an amazing lover. But when her grandmother dies, she might have to give it all up and go live in Resnick, the small town in Georgia where she grew up, in order to get her inheritance. Nola's not interested in any money, but Lochhaven, the lovely southern home she grew up in, would be all her's. There's just one small catch: Nola has to be married in order to claim her inheritance, and she's got 30 days to get it done, or otherwise the house along with everything that goes with it will go to someone else.
Of course Nola is shocked by such an archaic demand to gain her inheritance, and even moreso when she discovers her grandmother's will is airtight. As much as she'd love to turn her back on the stipulation, she knows deep in her heart she would regret losing Lochhaven, so after much consideration, she decides that she is going to do everything she can to fulfill the terms of the will. She doesn't have much time, so she immediately sets about dealing with her life in Chicago, and tying up loose ends. This takes longer than she anticipated, so by the time she reaches Resnick, she's tired, stressed, and feeling the pressure like a lead weight in her stomach.
Part of the stress that is affecting her is that Nola decides that the man she's going to marry is going to be for keeps, not just a solution to an immediate problem. She figures if she can find a man who can set her sheets on fire, that he will be most compatible, and they can work on the rest later. She already has at least one candidate in mind: her high school sweetheart, Billy. Finding out he's available gives her hope that they can re-kindle the romance they had so many years ago. But though he's a more likely choice, she decides not to limit her options, especially when her current lover Marc has expressed interest in taking their relationship to the next level, and then there's Tanner, her grandmothers's sexy handyman, who totally flips her switch.
So with the clock ticking, Nola must decide which man she is going to potentially spend the rest of he life with, work on restoring Lochhaven to its former glory, and, oh yeah, try and figure out who's trying to kill her before they succeed...
My thoughts:
This book is a bit unique in that it's set up to be a traditional romance, yet the heroine has been spending time in the beds of three different men. Normally this type of behavior puts me off the book, but under the circumstances - using an old plot device in a contemporary way - I was able to put aside my personal feelings and work let the storyline play out.
Why I think it worked for me was because of the situations in which two of the men played a part in her life. Marc was already her current lover, though at first she really didn't see him as potential husband material, and Billy was her first lover, back when they were in high school. So the idea of her being sexually intimate with three men didn't bother me as much as it might have if she just recently met these three men and decided they were the most likely candidates for a husband.
Now the story was written in such a way that all three men were very viable choices for a husband. It was also written in a way that Nola had reason not to choose any of them for very valid reasons. So here's Nola, desperate to find a husband and not lose the legacy that meant so much to her, yet because of a variety of reasons, her decision was not going to be an easy one. She had to get to know these men intimately, both physically and emotionally, in order to know in her heart which man was the one for her. She was not looking for a temporary arrangement - she wanted a permanent, happy relationship that she could build on with her husband. As archaic as her grandmother's wishes were, once she came to realize what she could be forfeiting, Nola had every intention of honoring the terms of the will.
As for the man she fell in love with, let's just say that I knew from the minute I "met" him who I wanted her to choose, and fortunately I was right. Each man had his own set of qualities and attributes that appealed to Nola in different ways, but there was only one man whom she felt was the one she is meant to be with. Once she knew in her heart, she didn't allow herself to continue to have sex with the other two, and this was because she'd consciously made a commitment; she had fallen in love, so even though she still cared deeply for the two other men she might have married, and was still attracted to both of them, she had made her choice and couldn't break her vow, even if it was just to herself.
This story was refreshing in that it let the heroine explore her sexuality, her feelings, and didn't have Nola feeling guilty for getting physical with more than one man. It's a very contemporary attitude, and I'm sure each of us know at least one friend, or maybe even are that person, who has more than one lover at a time. Nola was also as upfront with her lovers as she could be, not sugarcoating the fact that she was being intimate with other men, and because no promise of fidelity and exclusivity had been made, I felt she was well within her right to have a little fun, as long as she was careful and took precautions, which was definitely made known that she was.
While this story may not appeal to everyone's tastes, I think it's a brave move on Ms. Maynard's part to write about a modern woman who embraces her sexuality and at the same time, honors her small-town roots. Sexy and charming, I think many readers will still see Janice's familiar style and enjoy a bolder storyline with a likable heroine and the men who love her.
Rating: **** out of *****
Labels: Janice Maynard