Wednesday, June 17, 2009: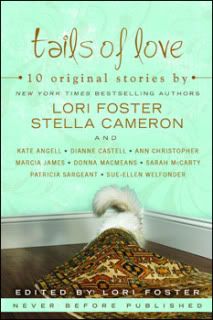 Ten all-new stories that celebrate our animal friends, by bestselling and award-winning authors.
From Seeing Eye dogs to the cat who cuddles in your lap, animals are there for us in more ways than we can count. Helping us get through the day with a wag of the tail and a tilt of the head, they let us know that someone is on our side no matter what. They also have an amazing ability to break down barriers between people; bringing families and loved ones closer, and giving strangers an excuse to strike up a conversation. In "Tails of Love," each writer draws from her own unique perspective on our loyal friendsaexploring the many mysterious ways they bring love into our lives.
Hi all. During the Lori Foster, Dianne Castell event, I managed to get an extra copy signed by all the wonderful authors of this anthology, and I'm going to have a drawing for one lucky winner. It will be incredibly easy: just tell me your favorite animal. It could be a dog, cat, horse, tiger (like mine), squirrel, whatever. So all you need to do is include what type of animal you love, maybe your own pet. Maybe it's one that has been there to give you unconditional love when you've had a bad day. We could all use that from time to time.
I will chose a winner on Sunday, June 21st, noon CST, and the winner can provide me their email address at that time. The contest is open to anyone, regardless of where you live, as long as you can receive mail.
As a reminder, please do not include your email address in your response as it is the winner's responsibility to contact me, and you must answer the question in order to qualify. A winner will be chosen by Random.org.