Tuesday, June 09, 2009:
The super-generous Lori Foster

Can you believe another get-together has come and gone? As always, I'm in a strange mood by the end of these events: I'm so happy I went, but also sad it's over. It was fun to catch up with old friends and meet new ones, to once again chat up favorite authors and see what they are up to. And of course to get more books. That never gets old.
Heck, it only took 4 years of this event to finally figure out that maybe I should arrive in Cincy on Thursday instead of waiting til Friday, and so that's what I did this time. With
Michelle Buonfiglio
as my chauffeur *g*, we made the 5+ hour drive with relative ease, only stopping once to eat, and another to get gas. Michelle's a bit more of a laid-back driver than I am, much more courteous than I ever will be, but since I was in the co-pilot chair, who was I to complain? I got to listen to several hours of Octane on satellite radio, and it's a beautiful thing. Traffic was actually pretty light. We got to the hotel, then I pretty much crashed. Having only slept maybe 3 hours the night before, I was feeling the pain. Curled up with Sophie Renwick's "Hot In Here" and sunk into oblivion...
Day One:
It's finally Friday, and I'm ready to start the day and get together with some book lovers. Slept great. This Marriott really is awesome. Wasn't sure what was on the agenda and Michelle was busy, so I grabbed my book and headed down to breakfast. Ending up moving over to Erin McCarthy's table and we ended up eating and gabbing for awhile. That's the cool thing about this event - you can actually end up at an author's table and get the chance to just sit and talk. It's like Christmas in June. But that doesn't mean I wasn't a major beeyotch, because I totally was when I emailed Kati to tell her about it. Yeah, that's the kind of friend I am.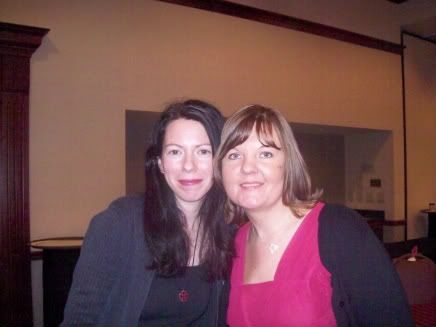 The awesome Erin McCarthy & me
Erin and I talked about her lovely books of course, and I wanted to know about getting more of her "Fast Track" series ("Flat-Out Sexy", "Hard and Fast" ) and was thrilled to hear that yes, Suzanne & Ryder will be getting their own story, though not soon enough for me. Erin has ideas for several more stories in the series, and if you're like me and want each and every one, let your voice be heard.
After breakfast I headed up to the room to read a bit, and then Kati was calling cuz her and LeeAnn made it in but their room wasn't ready, so we hung out then it was off to lunch, Red Robin style. Yes, about an hour later and already I'm eating again. Another nice thing about this event is all the opportunities to eat. And then Julie showed up, my dear guest blogger of the "series in order" and "infomercials" posts, and it was like old times.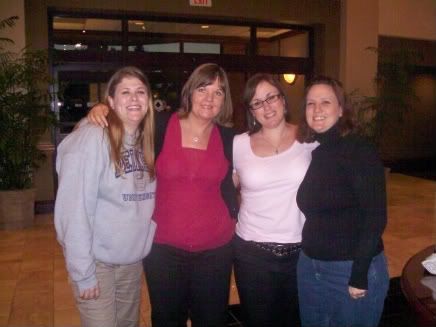 LeeAnn, me, Kati, Julie
After heading back to the hotel, people finally started showing up. Almost immediately we caught up with Toni Blake/Lacey Alexander and Lindsey. The plan was to have the Toni Blake Yahoo Group meet in the lobby between 3-4pm when people started checking in. It was a great place to hang out and watch everyone show up. Several squee moments to be had....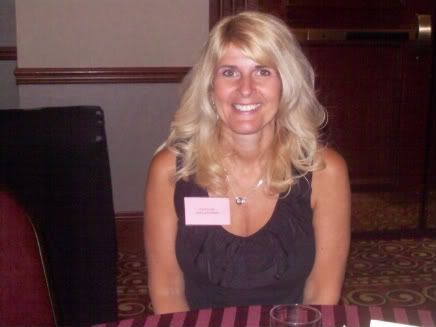 Toni/Lacey
I did get a chance to sit down and chat with Lindsey,who happens to be Toni's assistant. What a fun job that must be! To work for an author whose books you love to read. But then again, how much work would you really be getting done if you spent all of your time reading? That's gotta take discipline, which I don't have much of. Lindsey also works for Sanhaim, whom I love and currently consider to be my favorite ebook publisher.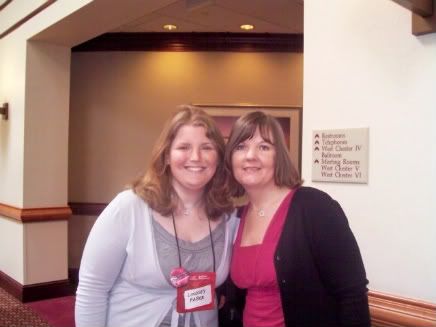 Lindsey and me
And I finally got to meet AmyC and her mom, both very sweet ladies. Amy's blog is one I visit just about everyday, even though I can't post on it for some reason when I'm at work. I was thrilled she was able to attend, and she was playing the role of angel, doing a fun thing for another of my favorite bloggers, Lea, who is always so upbeat and thoughtful. Amy put a lot of work into it, and you could tell she was pretty excited about putting it all together for Lea. See why I love these girls???
me and AmyC
As has been done every year, there is a huge raffle with all kinds of prizes. This year the money collected for the raffle was going to One Way Farm, a place for abused children to stay and heal. The raffle was done in 3 shifts. I have to give a huge shout-out to LadyB for pulling it all together - it's a ton of work and well, people don't always follow instructions *g* But with a little help she managed to check in over 110 baskets, just unbelievable. Raffle tickets were going 2 for $1, and thanx to hottie goddess JudyF, I had labels to put on the tickets this year. And what an absolute wonderful feeling to hear that the raffle drawings collected over $6600!
Leanna Renee Hieber, Library Deb, and LadyB
I brought 2 baskets for the raffle, and they are always so much fun to put together: chocolate, books, and Bath & Body Works, which are some of my favorite things. But I always get nervous that no one's going to put any tickets in them, but I got 2 great winners: long-time friend and event attendee Barb Smith won my
Beth Kery
/Julie James basket, and Julie James won my Jennifer Ashley/Jennifer Haymore basket. Yay! People I knew and liked LOL. It was just nice that people put tickets to win my baskets.
Jennifer Ashley/Jennifer Haymore basket
Beth Kery/Julie James basket
It was a long but very fun day, so after the first raffle drawing, most of us headed to our rooms, tired but really looking forward to Saturday :) I spent the time reading and reading a few emails, but being the extreme introvert that I am, I needed some "me" time so it was nice to just relax and mellow out a little. But there was more fun to be had.

(to be continued......)
Labels: 2009, fun, reader/author get-together