Tuesday, June 02, 2009: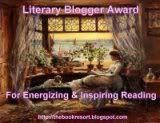 The Literary Blogger Award
What an honor to be a recipient of this grand award, which acknowledges bloggers who energize and inspire reading by going the extra mile! These amazing bloggers make reading fun, and enhance the delight of reading!
A huge thanx to Cecile, who nominated me for this award. What a sweetheart you are :)
1) Put the logo on your blog/post.
2) Nominate up to 9 blogs.
3) Be sure to link to your nominees within your post.

4) Let them know that they have been nominated by commenting on their blog.

5) Remember to link to the person from whom you received your award.
And the award goes to....
There are so many awesome bloggers out there, and it wasn't easy to narrow it down, but I chose those inspire me in their own unique way. And while I wanted to nominate every blog I visit, because let's face it, I visit them because I love them so much, well, that would have been way more than 9.
Thanx to bloggers everywhere for creating wonderful places to visit, to make me laugh, think, squee and share my love of reading. You are all a part of my day and make it a brighter, and often times funnier, place. You all rock :)