Wednesday, May 27, 2009:

I am so excited that today I am sharing with you my interview with author Jennifer Haymore, author of "A Hint of Wicked". This book was one of those that captured my attention right from the beginning, and I think readers will really respond to her writing. I can't promise that Jennifer will have a chance to stop by today, but feel free to ask questions, just in case *g* And tomorrow I'll be having a contest to win a copy of "A Hint of Wicked".
Now, heeeeere's Jennifer......
S ~ Congratulations on the release of your first novel, "Hint of Wicked", a historical set in the early 19th century, right after the Battle of Waterloo. What appealed to you about this time period for this particular story?

JH: Thank you for the congrats! This is my first novel published as Jennifer Haymore. I do have some shorter e-books out as Dawn Halliday, and my first full-length historical erotic romance as Dawn, Highland Obsession, releases in August.

I've always loved European historicals, specifically those that take place in England. I'm an American, but my family's roots are in England, and I've always felt a special bond to the place. I love going there, I love visiting the areas where my family lived before immigrating to the USA, and I love the history that you can find around just about every corner in England.

Over time I also learned that English historicals, particularly those that take place during the Regency, are a favorite of many readers. When I first came up with the concept of A Hint of Wicked, the story actually did take place during the Regency period. I really wanted to use the Battle of Waterloo, however, as the "starting point," and as I researched the marriage laws, I decided to stretch the timeline a bit beyond the Regency.

S ~ What was the inspiration for "Hint of Wicked", and how did it evolve over time as it was being written?
JH
: The core idea for A Hint of Wicked was my husband's—I use him as a sounding board and a brainstorming partner all the time. The story, however, has developed quite a bit from his original "vision," which was of an enraged husband catching his mourning wife in bed with another man. I latched on to that scenario and ran with it…but I don't think I ran in the same direction he envisioned for the story! I guess that's my prerogative as the writer
.

S ~ I really liked the character of Sophie, a very independent woman who has loved and lost, and is now finding love again after many years. How were you able to create the delicate balance of Sophie's independent nature with her unwillingness to hurt her loved ones, while at the same time not making her come across as weak and indecisive?

JH: That's a great question—that was one of the most challenging parts of the book for me. From the beginning, I knew Sophie was strong, and I knew she was independent and steadfast, but the trick was to get it across to the readers without making her seem indecisive and weak. In order to do that, I had to make sure to put Sophie in situations she would react to in ways that showed her strengths. Basically I couldn't let her sit around wringing her hands and moaning a lot (and at times, given the high level of conflict, the compulsion to do that was pretty strong)!

S ~ It's no secret in the story that Sophie deeply loves both these men whom she thinks of as her husbands. It was a gutsy move to have her unapologetically respond sexually to each man individually, and enjoy these intimate encounters without feeling ashamed of her nature, especially during this inhibited time perod. Can you elaborate on why you chose to create such a bold, sensual heroine for her time period and station in life? Were there real women who inspired Sophie's personality?

JH: No, there weren't real women that inspired her specifically, though if you look at the most celebrated women in history, many of them were as bold and sensual as Sophie is.

I tried not to consider how a stereotypical woman of the period would react to the situation that Sophie was in, but rather how Sophie would react to her own situation, given her past and background. I think sometimes readers and writers get tunnel vision when it comes to personality traits in certain periods, and we forget that in any period, there a wide range of reactions different people will have to different events. A person's reactions aren't only derived from general societal norms and beliefs, but on her personal history and experience as well.

I tried to create a heroine who was in truly in love with two men, both of whom she did not want to destroy. Sophie has loved Garrett and Tristan since she was a child, and this love was encouraged by the people who surrounded her. So while she is cognizant that society would condemn her for loving two men, in her mind, loving them both is natural and normal.

S ~ In addition to the love triangle, you also include a subplot involving a villain intent on destroying the Duke of Calton. What inspired this angle of the story?

JH: I felt that this book required a balance between the internal and external conflicts. Without the villain subplot, the book would have been almost entirely about characters mired in angst. Not only that, but the villain subplot was crucial in bringing the three characters back together in understanding and ultimately essential in the resolution of the love triangle.

S ~ I'll be honest, "Hint of Wicked" really riled up my emotions, even on occasion making me rather angry. How do you feel about writing a story that could be considered controversial in some regards?

JH: My intent wasn't to write a book that was controversial for the sake of being controversial. I just wanted to write a book that worked for me on an emotional level (And if it works for me, I can only hope that it works for readers, but it's something I find very hard to predict!). I can see why some readers may get angry with certain elements of the characterization and plot, but as I've answered in previous questions, I tried to keep my characters true to themselves by having them react to the situations as organically as possible.

As a reader, I've found that some of my most memorable reads have made me angry in parts. Sometimes I also find a little touch of bittersweetness along with that happily ever after to be compelling and realistic.

S ~ How long did it take you to write "Hint of Wicked", and then how long to find a publisher?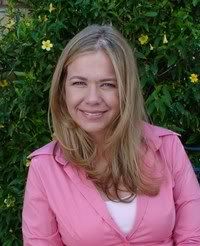 JH
: I sold A Hint of Wicked on proposal—the first three chapters (about 60 pages) and a detailed synopsis. It actually didn't take me very long to write the proposal—maybe a month or two? It sold fairly quickly after I sent the proposal to my agent, I'm thinking it was about 2-3 weeks. And then when I had a contract in hand—and it was my first major contract!—I was so pumped up that I finished the book in record time (for me, anyway). I think the amount of time from contract to the date I finished and turned it in was about five months.
S ~
What is your absolute favorite aspect of writing? Least favorite?
JH
: My favorite part of writing is finishing. There is nothing like writing "the end" and feeling that amazing sense of accomplishment I always feel at having written an entire book.
My least favorite part of writing is knowing that I have a long way to go and that the book isn't going to be done for another few months. I'm very impatient—I want to be able to write the entire book today. Unfortunately, it just doesn't work that way!
S ~
Have you been a life-long reader of romance novels, or is it something you gradually turned to over time?
JH
: It's something I gradually turned to over time. As a kid, I read everything I could get my hands on, but as I grew older, I turned mostly to horror, science fiction, and fantasy. In my early 20's, I read a lot of bestselling political & legal thrillers and literary fiction. I can't really pinpoint the moment I discovered historical fiction, but as soon as that happened, I was hooked. Then I began to realize that the elements I found most compelling in the historical fiction I was reading were the relationships—how they began, how they developed over time, how the characters dealt with them. I thought I'd give romance a try, and I quickly learned that I'd found my niche.
S ~
Many authors today write in several genres. Do you see yourself branching out into paranormals and/or contemporaries, or do you feel like there are plenty of historical romances you long to write?
JH
: Right now I'm fairly focused on historicals. I'll never say never, though. I enjoy paranormals and contemporaries, so I can definitely see myself writing more of them someday.
S ~
Reading your bio, I admit to being intrigued that you learned how to fly airplanes. Do you see that experience being written into one of your stories? Or perhaps a book inspired by growing up in Hawaii? Maybe even characters who are actors?
JH:
You know, I've never thought about writing flying into any of my books! I really wonder why that is, because I have often thought about writing about sailing. I think I'm a little more attached to sailing than I am to flying. Plus the fact that it's easier to write sailing into a historical…
I've actually written a book that was inspired by growing up in Hawaii: 10 Days in Paradise by Dawn Halliday. It was the first romance I wrote.
And as for characters who are actors—when I was involved in acting, it was the most un-glamorous life ever. I spent my time hanging around struggling people who were waiting tables at night and working their butts off during the day at auditions. I listened to people tell me I was too (***insert unkind adjective of your choice here***) to ever make it in the business. It can be such a hard life. Take me back to the aristocracy in Regency England any day!
S ~
I see your next book, "Touch of Scandal", will be a 2010 release, set 4 months after "Hint of Wicked". Can you share a little about what we can expect to see?
JH
: It's hard to talk about A Touch of Scandal without revealing spoilers for A Hint of Wicked, but I will say that it's the continuing story of the "losing" man from A Hint of Wicked. Most of the characters from the first book make an appearance, including the villain, and Rebecca, Garrett's younger sister, plays a big part in the story's conflict. The third book in the series (currently untitled) is Rebecca's story.
S ~
Now for a few fun questions:
a. What are some of your favorite t.v. shows?
JH
: I don't watch much t.v. because I work when my husband gets home at night. But two of my guilty pleasures are Heroes and American Idol.
b. Do you have a favorite romantic movie?
JH
: You can find a list of some of my favorites here:
http://www.jenniferhaymore.com/about/

c. Are you a re-reader, and if so, what is one of your comfort reads?

JH: I very rarely will re-read, but here are a few books I have read more than once:
Outlander by Diana Gabaldon
Flowers from the Storm by Laura Kinsale
River God by Wilbur Smith
The Chronicles of Narnia by C.S. Lewis
d. ideal romance hero and heroine in a book or move?
JH
: Hero: Jamie from Outlander. Sigh…
Heroine: Hm. There are many I like, I think I've yet to find the ideal. Any suggestions?
e. did your husband read "Hint of Wicked", and if so,what was his reaction?
JH
: Yes, he reads everything I write. He's patently positive about my writing, so I'm pretty sure he said something like, "Wow, it's great! I'm impressed!" upon finishing it.
f. any plans for a book tour?
JH
: My publisher has arranged a blog tour. More info about that here:
http://www.jenniferhaymore.com/bonus-features/appearances/

g. Can you share the name of a recent romance you read that you highly recommend?

JH: Hm, I'm wracking my brain over this, since I've read a lot of good romance lately! But one that really affected me and stayed in my mind long after it ended was Sweet Persuasion by Maya Banks. It's very, very erotic, though. Definitely not your traditional romance.

h. What would be your dream vacation?

JH: I want to go everywhere! My travel whims change almost on a daily basis.

Today I'd really love to go back to Bora Bora and stay in an overwater bungalow in one of the resorts.

i. What exotic location would you like to have as the setting of one of your books?

JH: I'd like to set one of my historicals in the Caribbean. I really love the history and locale!

j. If you could be doing anything right now - flying, sleeping, climbing a mountain - what would it be?

JH: Right now? Definitely sleeping.

S ~ Any last words, or secrets you'd like to share? Come on now, don't be shy!

JH: Thanks for taking the time to read the book, and thanks for asking such great questions!

S ~ And thank you, Jennifer, for answerng them :) I am so looking forward to your next book!
I hope you all stop by tomorrow for your chance to win a copy of "A Hint of Wicked", a June release :)

Labels: interview, Jennifer Haymore