Tuesday, May 19, 2009: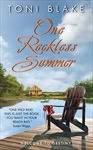 The perfect daughter. The perfect prom queen. The perfect wife. Jenny Tolliver's been the good girl all her life, and it's gotten her nowhere. Now that her marriage has been busted up by her cheating ex, she's decided it's time to regroup and rediscover herself. This summer she's headed back to her hometown of Destiny, Ohio, to the very lakeshore cottage where she grew up, to figure out what life holds in store for her next.

She never dreamed the answer would be Mick Brody, Destiny's #1 hellraiser. He comes from the wrong side of the tracks (or in his case, the lake), and he's landed in hot water more times than he can count. He's exactly the kind of guy Jenny's always kept her distance from … but soon the good girl and the bad boy are caught in a raw heat that's out of control. Too bad Mick's got a secret that threatens to tear them apart and ruin Jenny's perfectly, passionately reckless summer …
**Thanx again to the awesome Toni Blake for stopping by yesterday and holding down the fort. It was a pleasure chatting with her, as always :) Toni, you're invited back anytime!**
Okay folks, it's been awhile since I've had a contest, and what better opportunity than with Toni Blake's latest release? It's a contemporary, and as you can tell, it's about a good girl who can't stay away from the bad boy. A favorite storyline of mine, probably because I am that good girl who totally gets the appeal of the bad boy. You might not end up with the bad boy, but then again, maybe you do. I like to believe that anyway ;)
Contest will end noon CST on Friday, May 22nd. And Random.org will help me choose my winner. So my question for you is....
Who's your favorite bad boy from a book, t.v., or movie,
& what makes him so irresistible?
Labels: contest, Toni Blake