Thursday, May 07, 2009: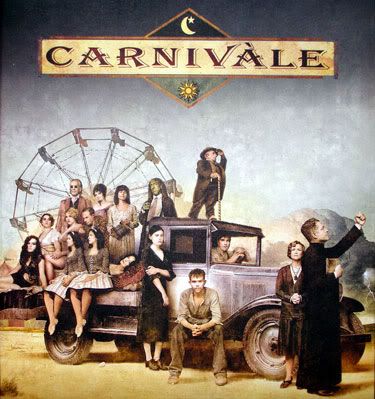 1934. The Dustbowl. The last great age of magic. In a time of titanic sandstorms, vile plagues, drought and pestilence - signs of God's fury and harbingers of the Apocalypse - the final conflict between good and evil is about to begin. The battle will take place in the Heartland of an empire called America. And when it is over, man will forever trade away wonder for reason. See the conflict of good vs. evil played out against a pair of vivid and unusual backdrops: a traveling carnival working the American Dustbowl circuit, and an evangelical ministry in California.
I just started watching Season 1. I read that it cost $4 million per episode; it was one of the most expensive shows to produce and that there were an estimated 5,000 people costumed in the show's first season. Amazing.
So far I'm really enjoying the show, so thank you to whoever recommended it (I'm too lazy to go back and check - sorry). It's an interesting and colorful setting for the battle of good vs. evil. It's grim, and a little strange, and very, very dusty. But it's also very engaging (yes, I tend to overuse this word because I like it so much) and before I knew it, I was dying to watch the next episode. So far I've watched 6 episodes. I get from Netflix and I only get 3 DVDs at a time, so I don't remember how many episodes there are in this first season, maybe 12? And then it looks like only one more season after that.
Have you seen it?
Like? No like?
Labels: television