Tuesday, April 28, 2009:
Happy Tuesday, all. Hope your week is going well. Thanx to everyone who stopped by yesterday for Shiloh Walker's "Chains" contest. It was really quite a blast and so cool to see those who stopped by and left comments. Those are always appreciated :) It was a lot of fun to be involved in, and different than the usual contest for a book release. As a long-time fan of Shi's work, it was great to be a part of the excitement. I hope you all enjoyed it as well.
Let's see, what's been going on here? Not a whole heck of a lot. What started out to be nice weather turned out to be a weekend of rain, so I spent a lot of it indoors reading and watching DVDs. I finished the first season of "Burn Notice" and think I definitely need to watch season 2. I also watched the 2002 release, "Dahmer", starring Jeremy Renner as Jeffrey. I've always had this weird interest in Jeremy, ever since seeing him play the bad guy in "S.W.A.T.", and liking him way better than Colin Farrell. He was also in a little known movie called "Monkey Love", which I thought was silly yet fun in a cute way. And he played a sheriff in a Pink video..."Trouble", perhaps? I think that was the song anyway. I don't necessarily find him all that cute, but I have liked some of the roles he's played in his movies. He doesn't take the expected path, and I've heard interesting things about his role in the movie "Hurt Locker", which I really want to see.
Anyway, so Jeremy plays the "human" side of Jeffrey Dahmer, the side that makes you wonder what exactly went wrong in Jeffrey's life. I remember when the gruesome case was first brought to light. I worked nights in data entry at the time, and we were all glued to our radios and headsets, listening to each gory finding, realizing that it had all happened only a few hours from where we were. It's hard to put a face to that. The movie is disturbing in the predictable sense that it shows just how mundane and ordinary Jeffrey was. So now I've watched it, and though it didn't shed any new light or tell me anything I didn't already know, I'm glad I watched it and got it out of my system. Am I the only one who watches those MSNBC or A&E programs about serial killers?
In reading news, I have a bunch of books for review, all ones that I want to read, some coming out in May, June and even July. I've read one or two, but didn't want to burn out on them all at once, so I've been doing some non-review reading, including some favorite re-reads. Some of you may know that Lisa Kleypas is one of those authors for whom I'd buy scratch-paper scribbles, so I'm indulging in my favorite LK historical, "Where Dreams Begin". Zachary Bronson is such an earthy, raw, sexual hero, and I've always had an idea of what he looked like, but now when I read this story, I picture someone more current, someone who has all those strong, appealing, masculine qualities. Wouldn't you agree that this guy - the delicious Jeffrey Dean Morgan - fits the description?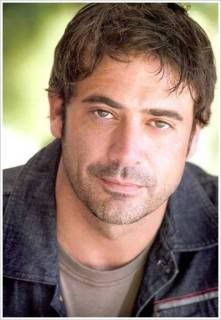 Next week I'm off to D.C. for work, and I won't have much access to the blog here because I don't want to haul my laptop along. And I can't wait to see Miss Kati again. While I'm gone, I'm thinking I'll post some book alerts, etc. but I was thinking if anyone is interested (Julie???)in writing up a quickie blog post, feel free. Maybe you've never blogged before or you have an idea that you want to write about. If so, I'm cool with that. You can leave me a comment this week and I'll touch base with ya. Otherwise, y'all are at my mercy *g*
And spring fever is got it's frenzied claws in me. Usually I'm not one to spend a lot of money on clothes, but I've been going a little overboard on some cute tops for summer, in the hopes the weather will cooperate and I'll actually get to wear them soon. So far that really hasn't happened. Has anyone else been going out on fun shopping sprees in anticipation of warmer temps?
That's about it for now. I seem to be in one of those moods lately where I'm not really happy or sad or upset or excited, just kinda "meh". Partly it's the weather, which has been rainy for several days and promises to continue for the rest of the week. I also think I'm feeling the need for a change. Nothing drastic, just something a little different to shake things up. What do you do when you need a little excitement to lift your spirits?
Labels: ramblings