Friday, April 17, 2009:
I just started reading this one, a sexy romance by one of my new favorite authors,
Beth Kery
. It has some paranormal elements to it, but nothing outrageous, and I can already tell it's going to be incredibly hot (fanning self). Let's just say that Hope's and Ryan's encounter, where Ryan dreams they touch for the first time, is intense. Day-umn.
Another thing I really love about this book is like Wicked Burn, it talks about Chicago and some of the city's rich history, which I've recently started to become almost obsessively interested in. I figure after living her for nearly 18 years, it's about time I discovered all the great things, both well-known and somewhat obscure, about this fascinating city that is so close to being my home, and one I love dearly.
And for those who are interested in possibly winning a copy of this new erotic romance, Beth is having a special Daring Time
contest
going on until May 8th. Also, I will be giving a copy away around that time, so stay tuned....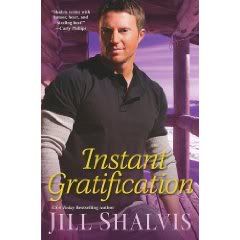 Jill Shalvis, you rock my world. No, really, it's true
.
I was so excited that I managed to snag a copy of the next installment in her "Instant" trilogy, and it's all thanx to Jill. And, if you've ever had the pleasure of visiting her blog, you know how much crazy fun this cookie-obsessed chicka is. Reading her daily antics, embellished or not, and seeing what Alpha Man, Mountain Barbie and the rest of Jill's gang are up to is definitely one of the blogging highlights of my day.
So when Jill was asking for reviewers for Instant Gratification, I couldn't pass up the opportunity. I gamely offered up my meager reviewing skills for a shot at more yummy goodness like only Jill can do. It promises to be another wonderful story, I just know it. She keeps getting better and better, and the last one, Instant Attraction, has been my favorite Shalvis novel to date. And that's pretty impressive because I didn't think any book would surpass my Brody love. He's still numero uno, but he's got competition. So this is a shout-out to Miss Jill for always giving readers more of what we want.
I
probably would never have noticed this book if I hadn't read some glowing comments about
this debut novel by author
Jennifer Haymore
. So when RNTV sent out their most recent list of books to review, this was one of the books I chose. The fact that it's a historical doesn't hurt either, since I've been gobbling them up like potato chips lately.

The premise is about a woman who lost her husband to war, and after grieving for years, finally found love again with another man, only to have her supposedly deceased husband return home, wanting her back. Sounds like a tearjerker, to be sure, and it reminded me of the b
eloved story, Twice Loved, I read many years ago by the amazing writer LaVyrle Spencer. I'm curious to find out how this one plays out.
I saw this book at Barbara's
blog
, and the author, Sophie Renwick (aka Charlotte Featherstone), was looking for reviewers. It helps to be at the right place at the right time. This one is a June release, and my first book by Charlotte/Sophie. But it sounds wonderful, like my kinda story, and after reading some of the reviews for Charlotte's story, Addicted, I figured I was in for a real treat from a talented writer.
Plus, the cover is uber sexy with just some hot guy's half-nekkid torso for inspiration. That way he can look like anyone who currently flips my switch and won't distract me by having me imagining the face of some cover model instead of my own fantasy guy. Plus I do love those erotic romances. This is a June release.
[Note: I have to confess that I've been very blessed with the books I get to read, and I am deeply appreciative that authors have asked me to review for them. Reading is my most beloved pastime, hobby, vice, you name it. So it means a lot when someone values my output. And a sincere thank you to those who've sent me books for review. I hope to return the favor by paying it forward.]
Last but not least, I have listed the first full-length story in Kresley Cole's immensely popular paranormal series. Many people have loved these books and continuously raved about them, yet I don't think it was until I read a random Twitter comment made by Ana from the Booksmugglers that I finally decided to read the novella, and was totally blown away by it. I felt that wonderful thrill of excitement because I finally got it, that this was a series that stood out. It was fresh, alive, and immensely interesting. I immediately wanted more of what Kresley was dishing out. But since I have several books up for review, all books that I actually want to read, mind you, then I have to behave for a little while. But that's okay. I can wait. Right now I am in book heaven, and plan on savoring each one as it so richly deserves.
What's at the top of your TBR list?
Labels: tbr