Friday, April 10, 2009:
One of my favorite authors, Julie James, had a post the other day about the sexiest man alive?, and it got me thinking fondly of one of my favorite hotties of all time: Josh Bernstein. Those of you who've been visiting my blog for awhile know I got the chance to meet Josh a few years ago when he was in the Chicago area for a booksigning. Not only is he as good-looking in person, and rather tall, but he's also funny and amiable and extremely interesting. And there's just something about a smart guy that is so incredibly sexy.
Then of course, there are those brown eyes. I'm a sucker for eyes like melted chocolate...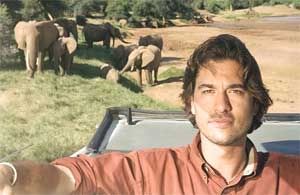 Here he is, comfortable in any exotic setting...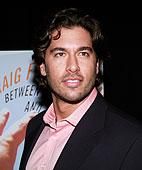 A man not afraid to wear pink...and looking really hot, I might add...
Looking good from any angle....

Just because....
I believe he was/is on the Discovery Channel on a show called "Into the Unknown". I've not seen it, but I think I must get the DVD. You can never have enough Josh.
The sad thing in all of this, well for me anyway, is that no matter how much time I spent surfing the internet, I did not find one shirtless Josh picture. For someone who is as into the earth and health as he is, I'm sure that would be like the 9th wonder of the world, one that I would want to visit time and again ;-)
So this is my treat to you for this upcoming Easter weekend. Enjoy ;)
Labels: hottie, Josh Bernstein