Tuesday, May 05, 2009: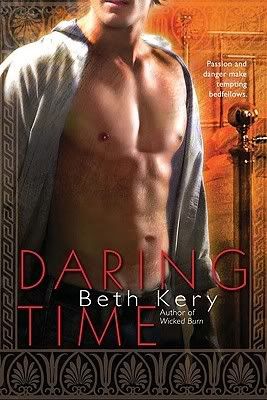 Passion and Danger make tempting bedfellows…
He sees her, wants her, needs her…
Chicago Detective Ryan Daire has many secrets: a love for Shakespeare, an appreciation for the all the finer things in life, and an absolute lack of restraint in the bedroom. Now he has an even bigger secret. In every shifting shadow of the sprawling mansion he's recently inherited he can see her—tempting, ethereal, and untouchable. Hope Stillwater inhabited that mansion in 1906. Raw desire has formed a conduit between these two passionate souls who are separated by the barrier of time.
Now he has to have her.
Intoxicated by each other's presence, Ryan and Hope are closer than ever to crossing that inviting boundary between two worlds. But there is one grave danger: Ryan's job has put him on the trail of a depraved criminal in an investigation that's risking Hope's eternal fate and happiness. Now he must do whatever it takes to change history, protect Hope from harm, and set his own desires free.
After reading "Wicked Burn" and loving it so damn much, I couldn't wait to get my hands on
Beth Kery
's latest release. Once again I was fortunate enough to get an ARC for this story, and I was beyond thrilled. I had a fun time reading it.
Just to be fair, I feel compelled to mention that this book is nothing like "Wicked Burn", which is a meatier, more emotional read. "Daring Time" is very, very different, which is not a bad thing. First off, it's a time travel, jumping between 1906 and present-day Chicago. Second, it focuses more on a suspenseful storyline versus the relationship between the main characters. And also, the city of Chicago is practically a major player here, so for someone like me, who lives not far outside the city, it's a real treat.
Because it is a time travel, I always try to suspend belief about the mechanics of pulling off a story like this. Traveling between two different time periods can be tricky, and confusing, especially when one character resides in present times, and the other is from the past. There has to be a way for the two to "meet". In this case, it's the house Ryan Daire recently inherited, the house where Hope Stillwater lives in 1906. Ryan sees glimpses of this unbelievably lovely woman in the house, and he wonders if he's losing his mind. But something causes him to dig a little deeper, and he finds out that this woman is someone who actually lived over 100 years ago, and that she was murdered. As he looks into the details behind her death, it turns out that Hope works with her father to protect the numerous young women who come to the city alone, looking for work only to end up kidnapped and sold into white slavery. A very powerful man by the name of Diamond Jack Fletcher makes a tidy profit selling these women, and is none to pleased with the interference of the Stillwaters.
Everytime these two "see" each other, there is an undeniable attraction between them, one strong enough to break through the barriers of time and create a way for Ryan to go back to 1906 Chicago in search of Hope. Like in most other books/movies I've seen about time travel, it's not a perfect transition. For example, what may be May 5th, 2009 in present-day Chicago ends up being May 7th 1906. Ryan is anxious to get to Hope and prevent her death, but by the time he finds her, it may be too late. While the two have been somewhat intimate in their unusual encounters so far, now Ryan is put into a dangerous position where in order to save Hope's life, he must put her in a compromising situation. Immediately afterwards, Ryan knows it's only a matter of time before he's caught, so he must act quickly to save both Hope and himself from Diamond Jack.
They make it back to present-day Chicago, a strange, dynamic world for Hope that only hints at what the city looked like back in her time. And wouldn't you know it, Diamond Jack looks eerily like a current-day criminal that Ryan is trying to put away behind bars. While he's managed to save Hope in her time period, will he be able to do the same thing now that she's in his world?
My thoughts:

For me, loving Chicago as I do, this was a wonderful treat. I loved seeing all the old descriptions of a time and place that existed way before I was ever born. I'm not incredibly curious about many of these locations, and am now convinced, thanx to Beth, that I need to read "Devil In the White City".
I purposely avoided connecting any dots when it came to the time travel aspect. There almost always are going to be laws of physics that don't fully support the manipulation of time and space, and from a philosophical standpoint, what does traveling through time ultimately end up impacting in the long run? Sort of like a "to give life, you must take it away" theory (learned this from the t.v. show I'm watching these days).
The instanteous and outrageously intense attraction between Hope and Ryan is very evident, and I found it to be completely believable. I was a little taken aback by Hope's almost immediate capitulation when it came to being intimate with Ryan, considering her upbringing and the stigma she faced if it were ever to be discovered she was primiscuous, however Ryan is a rather dominant man, and utterly convincing, especially when underneath his aggressive sexuality he harbors more tender feelings for Hope, which she easily responds to.
Now there is one scene, which I won't go into too much detail about, other than to say it was hot and sexy, but under the circumstances, rather unnerving. It's the scene where Ryan and Hope first have sex in 1906, and it's dangerous and a bit kinky and passionate, but considering part of the reason for it happening, it also felt uncomfortable to me. While ultimately it drove the story forward and set in motion the sequence of events that made sense to the rest of the plot, I still couldn't get past their "surroundings", and it dimmed my enjoyment a bit. I guess considering the "why" of having such a hot encounter at that particular time doused those hot flames for me. And if you know me at all, you know I tend to get hung up on some of the small details like this. So I moved on, and let the rest of the story take me away.
However other than that, I found "Daring Time" to be a light yet sexy time travel with two very likable protagonists that were clearly meant for each other. I liked the way it ended, including in which time period Ryan and Hope chose to live in, which is a no-brainer becuase it makes complete sense. I loved the old mansion Ryan inherited, and hope to visit the i
nspiration
for it sometime this summer (based on the remaining mansions of Prairie Avenue). And what's kinda cool, from what Beth told me, is that one secne that takes place when Hope was a child on the ferris wheel was actually inspired by a true event, which I find fascinating. I love stories based on true events, no matter how small. Sometimes truth really is stranger than fiction.
So, if you are able to suspend belief and let yourself sink into a suspenseful time travel romance, if you like reading about real places and how they look today versus what they looked like a century ago, I think "Daring Time" is just the read for you. In fact, just thinking about it makes me want to go and re-read it. In fact, I think I will. Who knows what fun little details I might have missed the first time around. That's part of the fun of reading for me.
Rating: **** out of *****
Labels: Beth Kery