Monday, May 04, 2009:
Well I'm going to be working in D.C. this week with limited blogging time, and so I'll be posting some book alerts, as well as a topic by a guest blogger. My good pal Julie is here to talk about what's on her mind these days. She was here before with a post about reading OCD (of which I personally suffer from), and so I am thrilled to have her back. Take it away, Julie!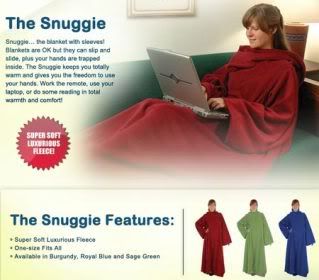 Who hasn't caught themselves flipping through channels just to stop at an infomercial??

They grab your attention with their fast talking and pretty faces. They reel you in with the ease and fun of their product. Then cap it off with double the order and free shipping. Who can pass up that kind of deal??

They are on every weekend but all the really good ones are on late at night. Being an insomniac, I've gotten quite the education.

Did you know that there are exercises you can do without moving?? Heck, if I can get a six-pack like her without leaving the couch, sign me up.
Have you seen that magic towel that can soak up every last spilled drop without dribbling. Boy, I could use that.

Oh and the knife that can cut through EVERYTHING, even a car, without getting dull. Just think of the possibilities.
After watching enough of these you start thinking you're missing out if you don't get it. Sure I've gotten sucked in more times than I'm comfortable mentioning. (Honey, I hope you're not reading this) I like to give everyone the benefit of the doubt but even I have a hard time believing you can drop 10 pounds in a week without moving or changing your diet. (If someone has tried it please let me know how it went) However, I applaud the creativity and ingenuity it takes to think up these products and make it sound so enticing.
I just got the Smooth Away which removes body hair without chemicals or razor rash. It uses flex crystals which were engineered in Europe (sounds impressive, huh?). I'll let you know how it goes.


Have you ever bought something sight unseen, as it were??
What was the last product you bought over the TV?? And did it work??
Labels: guest blogger