Thursday, March 06, 2008:
Today I have a guestblogger, the lovely Julie, whom I met about 2 years ago at Michelle's place. I've been patiently asking (pestering the hell out of her, really) to write up a blog for me because I find her posts to be funny and and perceptive, and I figured she'd come up with some great topics, and today's blog is definitely one that I can relate to (see Jules, I told you it would be good!) She's also one heck of a poet, and maybe if I can find a way to blackmail her, she'll come back and let me post some of her "classic" odes *g*.
So without further rambling from me, heeeeeere's Jules!
*************************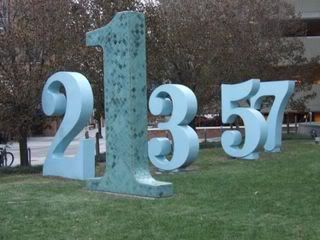 There is a show on the
Discovery Channel
called "MythBusters". They take an urban legend or myth (pop rocks and soda, anyone?) and recreate it to see if it's true or not. That's what I would like to do, a little myth busting. If I say to you the words Obsessive Compulsive Disorder, what do you think of? The common answer is a clean house, alphabetized spice cabinet, etc. HA! Let me bust that myth right now.
My name is Julie and I have OCD. Yes, the cleaning and hand washing are definite traits of OCD, they are only a few. Much to my family's dismay, my house is not the spotless paragon that is imagined of this neurosis. I work full-time, am a soccer, basketball, and cheerleading mom (three girls and not one could pick the same sport), have dinner on the table every night (true, four out of seven days it comes from bags with the golden arches on them but hey, I am not Superwoman), and other fun life stuff. My point being unless you come over Saturday afternoon, you will see shoes and coats thrown wherever, the occasional homework paper on the floor, and you may want to think twice about wearing white gloves when crossing the threshhold.
My major malfunction deals with order, not necessarily everyone's idea of order, just mine. It could be papers lying down that aren't stacked "correctly" (staples are my nemesis) or canisters that aren't arranged biggest to smallest. :shiver:
My biggest deal is reading books in order. I HAVE to read 1-2-3 or I get completely discombobulated. I'm not sure when it started exactly but I know it happened when a book by a little known author named
Julia Quinn
caught my eye and made me buy it. It was "
To Sir Philip, With Love
". I didn't know anything about JQ or the Bridgertons but as I was reading, I got this horrible feeling and the book stopped making sense to me. I finished it but it left me cold. I went to JQ's website and sure enough there were FOUR books before this one. I went to Amazon immediately and bought her entire back list. Usually I don't go quite that far but I couldn't make the same mistake twice by missing something.
Since then, I can't just go into a bookstore on the spur of the moment. I have to know specifically what I'm looking for. I can't just pick up a new to me author because what if I'm picking up a series already in progress. I get my books primarily by recommendations. I kid Stacy and others about putting me in the poor house with their wonderful recs but truth be told I would be sitting here crying in my beer without them. I have a firm motto: No matter what the author says, there are no stand alone books. If I keep that in mind, maybe I won't misplace any more of my loose screws.

Do you have any fun quirks that drive others crazy?
Are you a 1-2-3 reader or am I a few sandwiches short of a picnic?
**************
Thanx Jules, for coming out to play today. I hope you decide to come back - you are definitely welcome anytime.

Labels: guest blogger, Jules