Monday, February 25, 2008: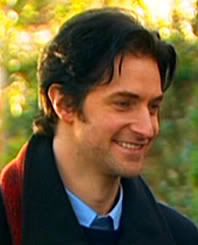 I had this in my Netflix, and watched both parts over the weekend:
The Holy Wholly Happy Ending
(2006) which is comprised of "The Handsome Stranger" and "The Vicar in White". Now I've never been much of a fan of British humor (maybe it's over my head), but I must say I loved this 2-part series finale, especially the fantasy montage where Geraldine (Dawn French) sings "It Shoulda Been Me". OMG, hilarious! I'm almost tempted to watch all the seasons, but I think there are about 10 of them, so maybe not. However I do have a new appreciation for this type of comedy. So while I might have originally watched it because of Richard, he was not the only highlight.
Ever been pleasantly surprised by a movie/t.v. show you thought
you wouldn't like?
Labels: BBC, Richard Armitage