Sunday, March 02, 2008:
MK
has a post up about the Bon Jovi concert she just recentlysaw, and it reminded me that today is Jon's 46th birthday.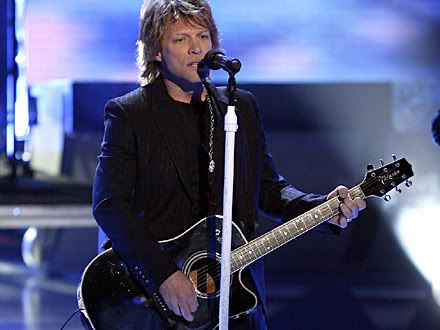 Unlike her, I have been a die-hard fan since, oh, 1987, a few years after they first came out, and I remember watching them on American Bandstand and thinking Jon was the hottest thing to ever exist. To my intense sadness, I have never, yes (sob) never, been to one of their concerts. Yet growing up, Bon Jovi was THE band I adored, more than Duran Duran or The Cure. I had tons of Jon Bon Jovi pictures on my wall (which eventually were tossed when I moved out of my parents' house).
Now, over 20 years later, the band is still going strong, and I still crank up the radio whenever one of their songs comes on. And seriously, Jon still looks hot after all these years, maybe even better than he did when he was up on my wall.
I think it's cool he's a monogamous guy, married to his high school sweetheart and raising his family while still putting out catchy rock 'n roll tunes. You can't really admire too many celebrities' morals anymore, but Jon (so far) and managed to keep it together.
Who were some of your favorite bands growing up?