Tuesday, May 12, 2009:

After enduring years of torture from the vampire Horde, Lachlain MacRieve, leader of the Lykae Clan, is enraged to find the predestined mate he's waited millennia for is a vampire. Or partly one. This Emmaline is a small, ethereal half Valkyrie/half vampire, who somehow begins to soothe the fury burning within him.
A vampire captured by her wildest fantasy...
Sheltered Emmaline Troy finally sets out to uncover the truth about her deceased parents--until a powerful Lykae claims her as his mate and forces her back to his ancestral Scottish castle. There, her fear of the Lykae--and their notorious dark desire--ebb as he begins a slow, wicked seduction to sate her own dark cravings.

An all consuming desire...
Yet when an ancient evil from her past resurfaces, will their desire deepen into a love that can bring a proud warrior to his knees and turn a gentle beauty into the fighter she was born to be...?
So as I mentioned in a recent post, I'm totally into
Kresley Cole
these days. I just finished this one last week, and already I'm clamoring for more. Yes, I am rather mad at myself for putting this series off for so long. But I keep reminding myself that I probably wouldn't have liked it back then based on my aversion to most of the paranormal stories that were being released in droves. My kind and dear visitor, I tended to be a paranormal snob, and had no clue as to what I was missing. It's been a gradual process, but I think I am finally on my way to appreciating the lure of the paranormal (though probably not this book cover. Is it just me, or does the hero come across as uber creepy?)
So just to give you a little info about the story (for the 2 or 3 people that haven't already read it), Emmaline is the only living female vampire left in existence, as well as being half Valkarie. She's a timid little thing, practically afraid of her own shadow, yet that doesn't stop Lachlain from trying to claim her as his true mate. Being a werewolf, he's most disgusted that she is one of those hated vampires, and has no qualms about letting her know it. Yet he cannot deny that her presence soothes him as much as it inflames him.
For her part, Emmaline has no wish to spend time with the bullying, cruel Scot, yet since having been coerced into driving him to his beloved estate, Emma realizes that many of the things she's feared all her life have all occurred while in the presence of Lachlain, yet still she lives. Maybe there's something to this "mate as in not an Australian buddy" business after all....
Because AHLNO was so thoroughly entertaining and addictive, I am dying to get a hold of the next book while at the same time being a little nervous about those dreaded high expectations. Still, I think Ms. Cole has created several interesting characters and plotlines to keep me entertained for hours. Yep, I'm lovin' it...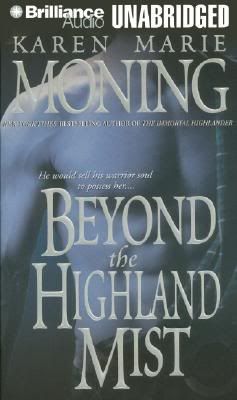 An alluring laird...
He was known throughout the kingdom as Hawk, legendary predator of the battlefield and the boudoir. No woman could refuse his touch, but no woman ever stirred his heart - until a vengeful fairy tumbled Adrienne de Simone out of modern-day Seattle and into medieval Scotland. Captive in a century not her own, entirely too bold, too outspoken, she was an irresistible challenge to the sixteenth-century rogue. Coerced into a marriage with Hawk, Adrienne vowed to keep him at arm's length - but his sweet seduction played havoc with her resolve.
A prisoner in time...
She had a perfect "no" on her perfect lips for the notorious laird, but Hawk swore she would whisper his name with desire, begging for the passion he longed to ignite within her. Not even the barriers of time and space would keep him from winning her love. Despite her uncertainty about following the promptings of her own passionate heart, Adrienne's reservations were no match for Hawk's determination to keep her by his side....
This is yet another example of a well-known series I hadn't read, until I picked up book #1 out of my TBR pile this weekend and devoured it. Though not quite as engaging as Kresley's series, I nevertheless had some trouble putting Karen Marie Moning's BTHM aside when I really had things I needed to get done. This book was released in 1999, and it's one I've been hearing about for almost that long. A few years ago, several of the books were on sale for $3.99/each (with the added incentive of Nathan on the cover), so I grabbed up the first 5 releases, but they languished in the pile for quite some time. Don't ask me why, cuz I have no clue. I luv Highlanders (especially if I imagine they all look like Gerard Butler) and the time travel element reminded me a bit of the series about one of my favorite Highlanders, Jamie Fraser, whom I love and adore. Yet still they sat, neglected. But for once I said "enough is enuff" and put aside newer releases for a bit of Scottish charm.
Now I'll be honest here, there were parts of this book that irritated the stuffing outta me. I wanted to simultaneously smack Hawk and Adrienne for their bull-headedness, and have them get on with it already! And Adam, well, I understand he gets his own later in the series, but oh, talk about messing with true love. He's got some redeeming to do, me thinks, before I can begin to forgive him. Yet I've heard some good things about this series, and will probably be picking up the next one in the not too distant future. It feels good to finally be making a tiny dent in the old TBR pile.
So, do tell: Immortals or Highlanders?
And just which Highlander is your favorite?
Labels: Karen Marie Moning, Kresley Cole