Friday, May 15, 2009: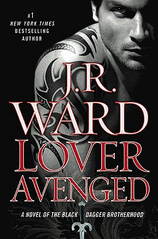 Hey all you lovelies out there. Hope you're up for an exciting weekend, whether it's reading, playing, or just being a little lazy. I plan to do a little of all 3. I like a little variety in my day.
Not much been going on here. I was in D.C. last week for work and once again got to hang out with
Kati
, which never gets old. And this time around there were myriad topics to choose from, everything from "Lover Avenged" to blogging to the Cincinnati get-together and even hockey.
I'm about 1/2 way through "Lover Avenged" and waiting for it to get good. Right now I can barely keep my eyes open. I have a feeling I'm really going to like Ehlena, in fact I already do, but it's slow going for me. I hear it's good, in fact some who've been fed up with the series have given me hope, but so far I'm not feelin' it. Which reminds me, that Brother-speak is getting on my last nerve. I feel like I'm listening to a male version of "Clueless", so it's not only preppy girlspeak, it's also very dated. It never bothered me as much before but this one is driving me nuts. "Outtie?" "Freshies?" Real annoying, true????
Speaking of hockey, it seems to be on a lot of people's minds lately. Yesterday at work I heard several people talking about it. I'm not a diehard fan of any sport, though if I were, it definitely would be hockey above all else. I love all that aggressive competition, the sound of the blades slicing through the ice, the combination of the cold temperatures mixed with the heat of the crowd in their excitement. And of course the violence. Can't forget about that. I am in heaven when I hear the jarring slam of a large body thrown against the plexiglass at full speed. Then there's the blood, the rising tempers, the tickin
g clock. And yeah, I'm totally in denial, but under those hockey masks, I'm picturing my version of Luc "Lucky" Martineau everytime....and wondering if they have a tattoo in a very special place ;)
But that's just me. Because the reality is usually much scarier than the fantasy. I prefer my heroes with all their teeth, thank you very much. And no mullet. Does make me wonder what we saw in them back in the 80's, but then again there are a lot of things about the 80's that make me wonder "what were we thinking???" But that's another story. I'd rather think about tattoos, and the places they might be hiding.
Let's see, what else is going on? Why, I haven't done an interview in awhile, nor a contest.
Toni Blake
has a
book
coming out on the 26th, and she was kind enough to take time out of her busy schedule to answer some questions for me. And she might share a little about what
Lacey Alexander
is up to as well. In honor of Toni's visit, I'll be giving away a copy of "One Reckless Summer", so if you're interested, stay tuned for that.
What are your weekend plans?
Labels: ramblings