Monday, May 18, 2009: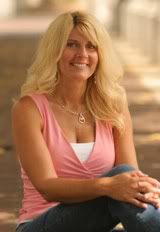 Happy Monday, everyone! I hope y'all had a fabulous weekend. Finally it seems like the weather is catching up and getting nice. How extraordinary to see the sun again :)
Today I have a special surprise - Miss Toni Blake, a favorite author of mine, has kindly taken time out of her busy schedule to answer some questions, and most especially to tell us about her upcoming release, "One Reckless Summer", which I read and enjoyed VERY much. She also gives us a little tidbit of information on what erotic romance author Lacey Alexander has in the works, which I'm very excited to hear about..
Without further ado, let's bring out Toni. And please be sure to stop by tomorrow, when I'll be having a random contest for a copy of this book, to be released on May 26th. I think fans of Toni's work are really going to enjoy this one.
S ~ Toni, thank you so much for stopping by. As you know, I've been a fan for years. What has been your most rewarding experience as a writer?

Toni: For me, it's ALWAYS, ALWAYS when I meet or get an e-mail from a reader who really loved or was moved by one of my books. To me, at the core, writing has always been about connecting with other people, so to find out I've succeeded in touching someone with my stories is the ultimate reward!

S ~ How challenging is it to write as both Toni Blake and erotic romance author Lacey Alexander? How do you choose which persona to be from book to book?

Toni: It's both challenging … and not. ; ) The hard part is keeping up with it all – two web sites, two sets of deadlines; two names in general is a lot to juggle.

But the writing part comes pretty easy for me. I don't really choose which persona to be for each book – to me, there are huge differences between a Toni Blake book and a Lacey Alexander book and I approach them with entirely different methods of writing.

A Toni Blake book is focused on two people, one of whom is often a bad boy hero, who have a lot standing between them – and it's very much about breaking down barriers, overcoming adversity, and about the heroine ultimately using the power of love to sort of "rescue" the hero from whatever made him such a bad boy in the first place. These books use a combination of emotion, angst, humor, passion, and everything in between to hopefully create a very "complete" feeling story. Toni Blake books also have much more complex plots, usually with a secondary story that ties closely with the primary one, and there are usually a lot of small threads and strings that must be tied up neatly in the end to pull it all together.

A Lacey book, conversely, focuses very firmly on sexual content and a sexual situation. From there, the characters and their conflicts grow, but the plot is less complex.

The main thing I feel the two types of books have in common is that they both have a lot of emotion in them. Whatever's going on, I consider it my job to make sure the reader knows what the character is feeling while it's happening.

S ~ What was the romance novel you remember reading? Did it convince you to keep reading them?

Toni: Jennifer Crusie's MANHUNTING and GETTING RID OF BRADLEY – the original first editions. ; ) And yes, absolutely. A friend of mine suggested I should switch from writing literary fiction to romance. I'd never really read romance, so she shoved those books into my hand and promised me they weren't what I expected. She was right – at that time, I had no idea romance could be so smart and sexy and funny. It literally changed my life because I immediately started reading and writing romance, and I've never looked back.

S ~ What's the most decadent thing you've done in the name of research? (i.e. gone to a spa, taken a luxurious vacation, etc)?

Toni: Well, I wouldn't call it a luxurious vacation, but when I was writing IN YOUR WILDEST DREAMS, my best friend and I took a research trip to New Orleans. I'd been there several times before, but there were some very specific questions I needed answers to – and some things I wanted to experience rather than just read about, like floating along a bayou. We had a great time, and I also got all the answers I needed.

S ~ How do you think the industry has changed since you first became published? Is it easier or more difficult to find an audience?

Toni: Wow, great question. These days the book industry is struggling, right along with the rest of the economy, and competition is stiffer than ever. So I really do believe it's more difficult to build an audience and get a foothold now. I'm still trying to do this after eleven years in the business. ; ) Particularly, I think these days it's more challenging to get publishers to stick behind newer authors and give them a chance to grow, and I also think it has become more rare for a publisher to really put a lot of backing and support behind an author until he/she is a bestseller – and the flipside of that, of course, is that it's hard to become a bestseller without that big backing and support. ; )

So … to anyone who picks up a copy of my new release, ONE RECKLESS SUMMER, you have my true and sincere appreciation! :)



S ~ How do you pamper yourself after spending weeks or months working to finish a book?

Toni: Hmm. Usually, I do something really wild and decadent like … read a book. ; ) Which might not sound that exciting, but lately my reading time is at a minimum, so getting a chance to read feels pretty fun. I also sometimes treat myself to a little shopping. And I allow myself to work on my quilting more – because I have bad shoulders, and usually, typing all day does them in. So in the short periods when I'm not typing all day, that's a great time to punish them by quilting. ; )

S ~ What is the most valuable piece of advice you've gotten about writing?

Toni: Never give up. Because most people do. If you don't, you're already ahead of the odds.

S ~ How do you feel about promotion - what avenues do you think have been positive about getting the word out there about your books? Do you find any medium that has not really worked for you?

Toni: Another great question, Stacy! For the most part, I feel that in the world of "big publishing," there's not a lot authors can do to really tip the scales – it's about things like getting great covers, getting great distribution, etc. But at the same time, I'm a believer that every sale counts and moves you toward your goals. The promotion I most enjoy is doing online stuff when I have the time – stuff like this interview, hanging out at my online readers group (
www.Yahoogroups.com/ToniBlakeFans
for anyone who'd like to join us!), doing occasional guest blogs, etc., and I do believe that things like this help. I personally believe I have picked up new readers – and friends – through MySpace. And I've shied away from things like buying print ads because they're usually really expensive and I'm not sure they do any good. ; )

S ~ As Toni, you've recently completed an amazing story for the new and exciting Destiny series called "One Reckless Summer". What was the inspiration for this story? What else can we look forward to seeing in the rest of the series?

Toni: Ah – thank you, Stacy! :) As you know, I love me some alpha heroes, and I personally think Mick Brody is my ultimate alpha creation thus far. ; ) And I think this book is my personal fave of all I've written. The story actually began with a question: What would make a woman cross a dark lake in a canoe in the middle of the night? And then another question: What might she find on the other side in the woods? ; ) Actually, I answer this question in more detail – and you can see the woods that inspired the question – in this short video about the Destiny series:
http://www.youtube.com/watch?v=qT5QdisCOVE

As for future stories, most of the characters you'll meet are introduced in ONE RECKLESS SUMMER. For example, in upcoming books, you'll find a hot cop, a sexy fireman, another long-missing bad boy who returns home with some secrets – and, of course, all the women who can tame them. ; ) The girls in the series all congregate at Under the Covers, the local bookstore, and their banter about guys and love and life has been a lot of fun to write so far. By and large, the Destiny books are heartwarming and life-affirming but at the same time are super sexy and fun to read.

And while we're talking about Destiny, here's a lovely one minute video that totally captures the mood of the series:
http://www.youtube.com/watch?v=XjsMqXHNDds


S ~ What is Lacey up to these days? What can we look forward to seeing from her next? And when will her next book be released in print?

Toni: Lacey is as busy as ever. ; ) Her next book from Penguin comes out this November and is called WHAT SHE NEEDS. This is actually a slightly darker, edgier project for Lacey which I think fans will enjoy.

S ~ Okay let's talk about something else. How about....Guilty pleasures:

S ~ favorite beverage?

Toni: Classic Coke

S ~ Favorite vacation spot?

Toni: Oooh, I can't decide. I have three faves so far in life: The Cinque Terre in Italy, the Canadian Rockies, and Hawaii. But for pure paradise/relaxation: Hawaii, from which I just returned a couple of weeks ago.

S ~ Favorite way to pamper yourself?

Toni: Shopping.

S ~ Favorite movie?

Toni: Too many to name, I'm afraid, so I won't even get started.

S ~ Favorite hottie? Or favorite romance hero?

Toni: A cert
ain Mr. Clooney comes to mind …

S ~ Which celebrity would you love to meet, and one you've enjoyed meeting?

Toni: Again, a certain Mr. Clooney comes to mind. :) I've been within five feet of him, but did not, alas, get to meet him.

I'd also love to meet Ellen. I'm a big fan, and I so admire her uplifting attitude and positive way of approaching life.

S ~ Do you listen to music when you write? If so, what type of music inspires those hot 'n sexy scenes?

Toni: Nope, I'm all about peace and quiet when I write – even though most of my Toni books do have "soundtracks" that run through the books, songs I use within the story to set the backdrop and mood for certain scenes.

S ~ Any last words, or information you care to share? Perhaps the latest on book #2 in the Destiny series?

Toni: First, thanks so much for such a great interview – this was fun! As for Book 2 in Destiny, I wish I had more to share. So far, no title is written in stone, but I expect the book to be out early next year and I hope readers will dig the Destiny series as much as I do. Thanks in advance to any and all who give ONE RECKLESS SUMMER a try – it's a book I'm truly excited about and very proud of; I personally feel it's my best work to date, so I hope people will check it out. And for an excerpt and more, readers can visit my website at
www.ToniBlake.com
!

S ~This was great, Toni! I learned a lot today. And Cincy is less than a month away - I can't wait to see you again :)


[Note: I don't know if Toni will get a chance to stop by today, but if you ask a question, I'll be sure to include it in the random entries for tomorrow's contest]
Labels: interview, Toni Blake