Wednesday, May 20, 2009: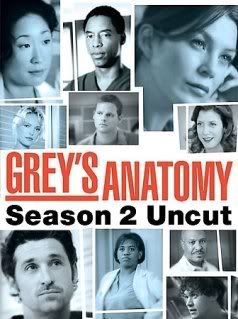 From BooksaMillion.com:
For viewers bored or distressed by the constant gore and breakneck speed of hospital dramas like ER, GREY'S ANATOMY comes as a breath of fresh air. Unlike other shows set in the world of medicine, this series is just as concerned with its characters' personal lives as with their medical careers, and thrives by stressing the way in which the two intertwine. After all, for surgical interns who have chosen to dedicate their lives to medicine, the hospital largely becomes their home.
Extremely well-written, the series mixes serious issues like mortality with funny storylines and wit. Each character is well developed and individualized, coming off as real rather than stereotypical. Rather than standing on its own, each medical challenge sheds some light on the doctors' personal experiences, bringing the hospital environment to a refreshingly relevant level. While the series may not be the most realistic medical drama on television, it is certainly the most compelling and entertaining, containing such juicy plotlines as love triangles, affairs between coworkers, and secret romances.
This release contains every episode from the show's well received second season, picking up right where the first left off, with Meredith discovering that her boyfriend, Derek, has been hiding the fact that he's married. Shocked and betrayed, Meredith embarks on a messy healing process that involves angry shouting matches and a string of one-night stands. As usual, the show avoids taking itself too seriously by interjecting serious themes with lighthearted dialogue and humorous medical emergencies. Rounding out the already impressive ensemble cast are new characters like Derek's wife (Kate Walsh) and new love interests for most of the cast. While the season contains plenty of laughs, it keeps the intensity up as well, and ends on a decidedly somber note.
Okay I know at this point no one cares what I'm watching, but since it's my blog, I get to talk about it anyway. Basically I am totally hooked on this show now. I've heard from some friends that the first 2 seasons were great, then it kinda starts losing its magic. But right now, I'm right in the midst of the magic. In fact, I'm only in the middle of season 2, so there's lots to enjoy still.
**If you've not watched Grey's and think you might, don't read ahead if you're worried about possible spoilers**
What I don't like:
So far, nothing really bothers me, and I like most of the characters. Sure, Meredith is not the woman I picture Derek falling in love with - I actually like his wife better - but I still like Meredith and her quirkiness (except for the whole "Pick me. Choose me. Love me." speech. That made me cringe.) And naturally I didn't like Alex cheating on Izzie, but to be honest, it goes with his personality, and second, there's obviously more going on there yet to be discovered. Not that it's an excuse, but good drama is hardly ever simple. And I know that it's not the end for these two....
What I do like:
Right now, just about everything. Christina totally cracks me up. She's so self-absorbed and distant and private, yet funny and vulnerable and rather endearing at the same time. I like her with Burke, though I wonder why he puts up with her sometimes. It's cool that he's willing to take his time with her, and learn about her. It totally freaks her out, and it's fun to watch.
George is funny, probably not meaning to be, but he is. I like too, how he gets passionate about things he really believes in. He gets nervous when it comes to confrontation until he gets pushed too far, then he proves he's got a spine. And he makes these funny faces that amuse me. Yeah, I like George.
I really like Addison too. She's not the cold bitch she could have been, and I think she matches Derek much better than Meredith. Of course I know that as the show progresses, things go differently. But for now I'm liking her a lot. It's sad she has no real friends right now because she really is a great character.
Bailey. How can you not love her? She's tough, but most of the time it's because she does have a big heart, especially for the patients. When she lost Jeremiah, a patient she's had for a long time, it was heartbreaking. But she handled it in typical Bailey fashion, yet I wouldn't have expected anything less. I'm up to the part where she's about to have her baby. Fun times.
And my most favorite thing about season 2 so far? DENNY. Oh my, I just watched the episode where he first appears, and that smile could knock me dead. Just as I remembered him from "P.S. I Love You". Yum. What woman could resist? And when he tells Izzie she's in love with him? Oh yeah, I totally would be too. He hasn't returned, but that definitely gives me something else to look forward to, despite the outcome. (Yeah, you can't ignore spoilers forever).
Do you watch Grey's?
Who's your favorite doctor?
Labels: television