Monday, May 25, 2009: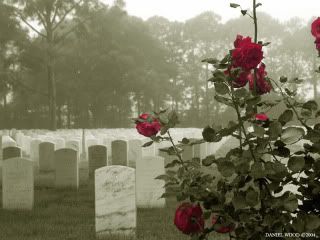 I hope everyone is enjoying a lovely Memorial Day weekend. This is one of those times I always think of the troops, especially those overseas. I just learned last week that the son of some distant friends died on a special mission in December. He was probably close to 30; I've known him since he was around 21 or 22. His sister wants to follow in his footsteps because she really looked up to her older brother. He was such a good kid. My heart breaks for his family. I know they were so proud of him. He died a true hero.
I had a 4-day weekend, and the weather has been gorgeous, for the most part. Today it's a little overcast, but that's okay. I'm relaxing today, doing a little reading and reviewing. I re-read Jennifer Haymore's "A Hint of Wicked" and that will go up tomorrow. And I have an interview with Jennifer I hope to post sometime this week. And of course, there will be a giveaway....
One cool thing I did this weekend was I met a blogging friend, Liza, and her niece Amanda on Saturday. I took the train into the city, which of course means that things didn't go smoothly. The train service stopped about 1/2 way to where I needed to go and they diverted us to downtown by bus. The cool thing was, I didn't have to pay, but it took forever! And I walked more this weekend than I have for a long time. We had a great time hanging out at Borders on Michigan Ave. I now want to go check out the Harry Potter exhibit at the Museum of Science & Industry - they made it sound so cool. Luckily it's here for awhile longer. Liza, it was awesome meeting you and your niece. It was fun. Anytime you're back in town, let me know :)
In other news, I'm also finishing up season 2 of "Grey's Anatomy". Okay, does anyone actually like Meredith? Because I really want to smack her. There are a few moments that I can actually say I do like her, but the way she treated George, ugh, I really was pretty disgusted with her then. If I were McDreamy, I'd choose Addison in a heartbeat. I really like her, and I think she's the better choice. And then there's McSteamy, who finally makes an appearance. Is it just me, or does he remind anyone else of Leo DiCaprio? That's who I think of when I look at him, so I'm not 100% sold on McSteamy yet, though I'm always willing to be convinced. But the best part of this season is still Denny (Jeffrey Dean Morgan). I actually had a PG-rated dream about him last night - he was going to come to Lori Foster's event with me LOL. How wouldn't that have been fantastic?! I'd have to fight Kati off with a stick *g*
And how was your Memorial weekend?
Labels: Memorial Day, ramblings