Monday, June 08, 2009: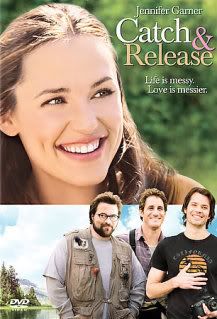 From BooksAMillion.com:
Screenwriter Susannah Grant makes her directorial debut in this tale of love, loss, and finding new love. Gray Wheeler's (Jennifer Garner) wedding day is not going as planned. Instead of walking down the aisle in her wedding gown, she is at the funeral of her fiancé, Grady, following his accidental death on a trip meant to be his bachelor party. To make ends meet, Gray puts her things in storage and moves in with Grady's roommates, levelheaded and attentive Dennis (Sam Jaeger) and quirky yet lovable Sam (Kevin Smith). With childhood friend Fritz (Timothy Olyphant) in from L.A. and crashing on the couch, it's a full house. Inhabiting Grady's old room, Gray soon learns that her fiancé had been keeping some big secrets from her and may not have been the man she thought he was. Perhaps more importantly, she discovers some surprising things about herself, and her ability to heal and love again.
Each of the characters in this film has to find a way to survive the devastating loss of a man who held them all together. Garner effectively conveys Gray's heartbreak and confusion without going over the top. As Fritz, Olyphant pulls off the role of the mystery man who is always charming but often misunderstood. Jaeger is earnest and heartfelt as Grady's roommate and business partner. But Smith is the scene-stealer here, with deadpan delivery and great timing as a Celestial Seasonings employee spouting philosophical quotes from the herbal tea company's packaging. Juliette Lewis appears as a sexy, slightly flaky, Californian massage therapist who is also a skeleton in Grady's closet.
I'd heard about this movie when it first came out, but for some reason it didn't appeal to me, so I pretty much forgot about it. But then Lea posted a sexy kissing scene from the movie during her "kissing contest", and I knew then that I just HAD to see it.
Basically, the movie is pretty much as the above paragraphs describe: Jennifer Garner portrays Gray, who, instead of marrying her fiance' Grady, is instead at his funeral on the day that was supposed to be their wedding day because he died in a tragic accident. As time goes by, she begins to learn things about Grady that she never knew, wondering just what kind of man she had been prepared to marry.
Unable to afford the rent on the nice apartment her and Grady leased together, Gray moves in with Grady's friends Sam, Dennis and the temporary roommate Fritz, who has his own place in L.A. Turns out at least two of the guys have feelings for her: one is in love with her and has been for years, and the other is in lust, but maybe more? As to be expected, Gray turns to the one in lust, lonely for human contact but not looking for anything permanent after her recent loss. All the roommates reach a point where losing Grady forces them to break away from their safe shells and take a chance on something, whether it's confessing one's feelings or becoming responsible, and not using each other as an excuse not to grow up.
My thoughts (and possible spoilers):
This movie was a lot better than I was expecting, let me just say that right now. Based on the description, I thought it was going to be incredibly depressing and end with one of those chick lit endings that irritate me so much, where the heroine is left to move on and hopefully find happiness again one day. Hey, I'm a romance reader. I want my happy ending, dammit. And fortunately for me, I did get one.
Unlike Kati, who hated the ending because she felt Gray picked the wrong guy, I felt less strongly that she chose the wrong one. Mostly. It was not a black and white decision for me because even though Gray went for the bad boy, he wasn't so bad after all. It's just that the other guy was such a good guy, and he truly loved her. This was another case of the supposedly more "exciting" guy to end up with the girl, but instead of letting him stay a jerk, he became rather decent, making it hard to hate him, and you could tell he cared for her, too. But the other guy! He's the kind of guy you wish you'd meet in RL: considerate, unselfish, good-looking, and not necessarily too good to be true, either. I'm sure he was set in his ways and not quite as exciting as the bad boy, but he was the keeper kind. It pretty much reinforces the notion that women don't want a nice guy. That's what disappointed me. I didn't hate that Gray chose the bad boy, but it sure would have been refreshing if she chose the nice guy instead. Plus, he stayed a good guy throughout the film, and still got his heart broken. Yet it wouldn't have made sense if he found someone else by the end of the film; then his character wouldn't have rang true.
It's an endearing film, and it was nice to see Kevin Smith in a speaking role for a change. I haven't seen all of his movies, but the ones I have are the ones where he's Silent Bob. I enjoyed his Sammy, and he does have a teddy bear appeal to him. Not hawt, but certainly likable. In fact I found all the characters to be this way, except for Grady, but then, well, he was dead, so that took care of that.
Cute movie and I'm glad I watched it. Just what I was in the mood for. I might even buy it. Doesn't seem like there are too many good romantic movies out there these days.
Rating: ****1/2 out of *****
What recent romantic movie would you recommend?
Labels: movies