Friday, June 12, 2009: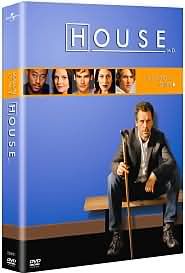 From
booksamillion.com
:
Part E.R. and part C.S.I., HOUSE is a medical mystery television show that's appealing due to its creative camerawork, interesting characters, and twisting plotlines. Dr. Gregory House (Hugh Laurie) is a brilliant medical professional, but often alienates his patients and co-workers because of his abrasive manner and bitterness. In each episode House is faced with a person exhibiting a number of unusual symptoms, and along with his team of dedicated doctors and nurses, must discover what strange illness is afflicting the patient...before it's too late! The show moves at a rapid pace, spurred by its turning and suspenseful plotlines and the lively interaction between the characters, played by a strong supporting cast that includes Robert Sean Leonard, Omar Epps, and Sela Ward. HOUSE: SEASON ONE collects all 22 episodes of the program's first year.

Here's another show that's been recommended to me, and I just started watching the first 4 episodes this week. It's an interesting show, though I have to roll my eyes at how so far it's been very predictable: grumpy doctor is pretty much rude to everyone, making cleverly biting comments and perceptive comments that tend to roll off most people's backs, and manages to come up with the cure right at the last crucial moment.
Dr. House pops pain pills like candy, ducks responsibility like the plague, and continuously insults everyone from department head Dr. Cuddy (played by the lovely and always interesting Lisa Edelstein) to his specialists and most often the ill patients. It's a good show, and interesting (are these illnesses truly real, that's what I want to know), but I haven't become of enamored of it yet. It hasn't grabbed my attention like "Grey's Anatomy", but of course I'm just in the first stages of "getting to know" it.
Do you watch "House"?
What's your favorite medical drama?
Labels: television