Wednesday, June 10, 2009:
Saturday: In for another jam-packed day. Breakfast started at 8:30 so I made my way downstairs, especially anxious to catch up with old friends. This event is pretty much the only time I get a chance to see many of them, most of whom are people I've known for 6-7 years from Lori Foster's Yahoo group. That's why I almost wish this event were a little bit longer if for no other reason to have enough time to see everyone for more than a few minutes. But then it would probably lose that special-ness.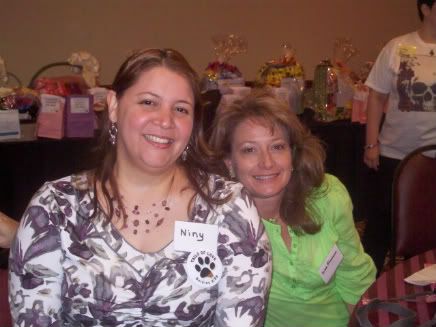 Niny and Lisa
These ladies have such pretty accents that I could listen to them talk all day. Here's Niny with her unusual yet melodic southern Puerto Rican dialect and Lisa with her Georgia peach charm. It's a breath of fresh air for this midwesterner who cringes when the Minnesotan comes out from time to time.
angel Laurie & hottie goddess Judy F
Part of the original get-together group, here are two of my favorite people on earth. Darlin' Laurie is the one who does all those incredible collections for the troops, but don't let those angel wings fool you. She's got a healthy bit of the devil in her, which is one of the reasons I love her so *g* (And speaking of devils, somehow I neglected to get even one picture of BadBarb. She was unusually quiet and well-behaved this year. Huh. You just never know what she's got going through that devious mind of hers).
Judy here is the reigning hottie goddess, who provides us with our daily fix of the hotties in various states of (un)dress. Let's just say nothing brings out a woman's, um, charitable tendencies like the need to give a little TLC to some of her most delectable men ;)

Chris, Kaleen & BarbS
More of the original team. Chris never fails to crack me up. I think she's a little crazy, but that's definitely an endearing quality in my book. Kaleen is one of LadyB's minions, er, volunteers during the raffle, but she's modest and left her tiara off so as not to intimidate the rest of us. And there's probably not too many people who know as much about books as Barb does. She's a walking romance encyclopedia. I think next year they should come up with a game to "stump" Barb. Now wouldn't that be fun?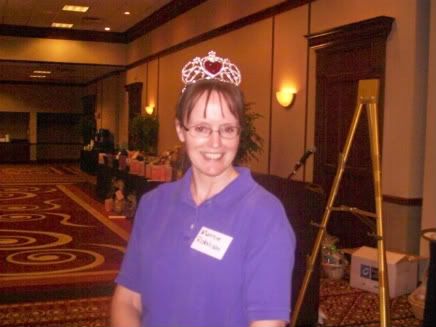 Marcie
Marcie here appears to be right at home wearing her tiara. LadyB must be so proud. I've known Marcie since the first event, when she showed up not knowing a soul but fit right in. That's the cool thing about these events - no one gets left behind. And Marcie's an aspiring writer, so I wish her all the best. (Marcie, does this mean you'll put me in the dedication??? LOL)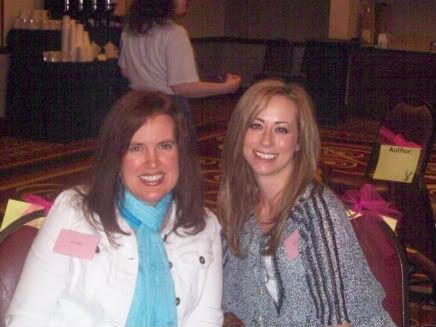 Here are two of my favorite new authors, and I was fortunate that they ended up sitting at my table. Of course they were practically dragged there, but well, whatever. These two ladies also joined me, Julie, Kati and LeeAnn for dinner that night - we just needed to get out of the hotel, and boy oh boy when the wine started flowing did we learn a lot of dirt. But as they say, what happens in Cincy stays in Cincy ;) And hey, you never know, some of it might end up in a book one day.....
More of my favorite people. Janice is such a dear, and she also has a pretty southern accent from Tennessee. Her and LuAnn write some of my favorite sexy, small-town stories. I didn't get to chat with either one for long, but it was nice to take a picture with them. It's hard to believe they are both grandmothers! They both look so amazing. I'm tres' jealous. And Joni...well, she's another story entirely. She had this new little trick this year: pinch or tickle the person she's next to right when the click of the camera is about to go off. I can just imagine what contorted facial expressions ended up on film. See, that's why I put sweet, innocent LuAnn between us. She's a character, that Joni.
Christy, Tee, Carol, Cheryl
Now these dear ladies play a very important role for every event - they take care of registration as well as all those raffle tickets people clamor to buy. Christy and her mom Cheryl (who will never live down those pictures with the swinging feather nipple clamps) are a real hoot, and they keep everything running so efficiently while having a good ole time. Carol was also a huge help this year, as the event was bigger than ever and they needed the extra help. And Tee, well, that woman's a saint, as she always drives BadBarb to this event. That's 5-6 hours in a vehicle with pure evil (shudder). Bless you, Tee!
This year Tee outdid herself with a gorgeous red crocheted afghan that EVERYONE wanted for their very own, but Angela James was the very lucky winner of that prize, damn her. I didn't win one single basket, btw. Sad, but true. Some people won 3 or 4 baskets. I need to learn their secret. Is it as simple as bribing LadyB?????
Laurie, Dianne Castell, Chris
You probably can't tell just by looking, but Laurie and Chris are actually holding Dianne in place so she doesn't flit off to parts unknown before I finish taking the picture. The woman is a whirling dervish. Just when you think you've tracked her down she's spun out of your reach yet again. She has more energy than any 10 people I know. She, along with Lori, are the two people responsible for making this event happen every year, along with all the volunteers who do it out of love. They still manage to make it as special as that first year. Thank you, Lori & Dianne!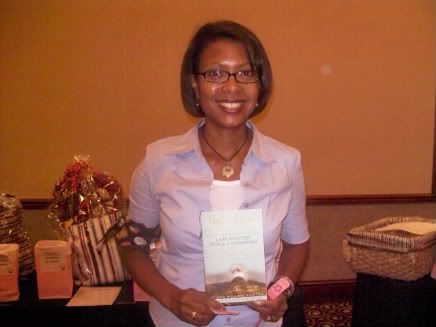 Ann Christopher
Ann is one of those people you really want to hate but you just can't because she's so nice. She's also beautiful, smart and talented, with the kinda first line in her story from the "Tails of Love" anthology that have convinced me I need to read her story first. In fact I really can't wait to read it. A hero who's been in love with the heroine for years? I'm so there.
I was super lucky to win her basket last year, and I thought I might be lucky again, but sadly, no :( She always brings such cool raffle prizes, too, like the cool silver bracelet I won - just gorgeous. And the woman is a class act. So jealous...
~~~~~~~~
Well friends, the fun isn't quite over yet. I still have several pictures to post, along with a contest for a copy of the aforementioned "Tails of Love", signed by ALL the authors. So see ya again soon.....
(to be continued....)
Labels: 2009, fun, reader/author get-together