Wednesday, June 10, 2009:
Well here it is, the last of my fun and memorable weekend. Because I actually did take pictures this year, I want to be sure to include them all.
It's still Saturday....
I pretty much stalked Anne as she was buying books,waiting for the opportunity to meet her and her her sign my books. She writes for Sanhaim, and if case I haven't already said a gazillion times, they are my favorite ebook publisher.

This was a fun moment. Stella was very gracious to stop and chat - she has such a lovely British accent. I haven't read many books by her, which is a shame. It's kinda like not watching one of the top 100 films of all time: some things are a must. I hope she comes back next year.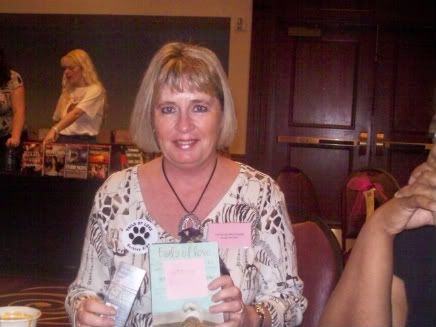 I admit that I haven't read any of Sue-Ellen's stories, but she is in the "Tails of Love" anthology so I look forward to checking it out. What I liked about Sue-Ellen is how enthusiastic and friendly she is. She really seemed to love meeting people, signing books, and expressing her excitement to be there. It was contagious. I'm so glad I met her and now cannot wait to read one of her stories.
As you can see, Shiloh is a complete photo opportunity hog, constantly begging to have her picture taken. It's shameless, really. And a little embarrassing when she's running after me to "just take one more". And this is definitely her best side, don't you think? Really gives us a strong idea of Shiloh's unique personality *g*
I'm a huge fan of her Hunter series, and well she knows it. I've also been lucky enough to review several of her books, though this is one I hadn't read yet. There's a few actually, which makes me feel like a kid in a candystore. You can never have too much candy.
I remember Roberta from the first event, and she was so passionate when speaking about books. I love that she's also an author, and I did read "Squeeze Play", which is a fun, snappy romance about a baseball player and the woman he loved. It was so much fun to meet her.
In the background to the left is Carolyn, the wonderful lady who made all the pretty beaded bookmarks, one of which is in a copy of "Tails of Love". She's amazing.
Look at these big smiles :) Patricia showed up a bit late due to a work situation, but thankfully she made it. She's just adorable, and her personality just lights up the room. She's also a Deadline Hellion, which is a group of bloggers I visit almost daily. It's always nice to see her.
I don't know, Sarah looks a little afraid of me in this picture, like I need to back away slowly. And I did try so hard to behave.
I got "Sam's Creed", though I'm not a huge fan of western romance, but I like what she does with them. Sarah is usually on the welcoming committee for the event, and she always gives away amazing prizes. This year it was the Kindle 2. Didn't win that one either. But it was great to see Sarah, so I'm not going to complain. Too much.
After buying books, getting them signed, and not winning any baskets, I was ready to eat, and it was getting close to dinner. My table decided that instead of staying at the hotel we'd get outside and go find somewhere to chat. I was feeling a little drained from the crowd so that totally worked for me. So a group of us headed over to Max & Erma's. Totally missed the luau, so I didn't get to wear the pretty lei AmyC had gotten for me. But I'm keeping it as a reminder of how much fun I had this year.
2 biggest regrets (off the top of my head): not getting a chance to meet Emma Wildes and have her sign my book because she left early :( and not being quick enough to get a copy of Sarah Parr's debut novel before they sold out, but I did meet her and she was just lovely. I had to tell her that Katiebabs has been pimpin' her book and that I couldn't wait to read it, so I did get an autographed nameplate for the book.

Before heading home, I met up with the group for Janice Maynard's breakfast, and this was our last chance to talk and laugh and hug. It's always sad to see the event come to an end. I get really moody and emotional and tired. Poor Michelle had to put up with me for the ride home. Yeah, it's hard to say good-bye *g*
And there's always next year, and I fully intend to be there. Only 360-something days to go.....
Did you attend this year?
Do you plan to go next year? Please do!
Labels: 2009, fun, reader/author get-together