Thursday, June 25, 2009: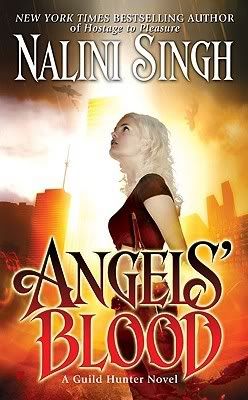 USA Today bestselling author Nalini Singh introduces a world of beauty and bloodlust, where angels hold sway over vampires…
Vampire hunter Elena Deveraux knows she's the best—but she doesn't know if she's good enough for this job. Hired by the dangerously beautiful Archangel Raphael, a being so lethal that no mortal wants his attention, only one thing is clear—failure is not an option...
even if the task is impossible.
Because this time, it's not a wayward vamp she has to track. It's an archangel gone bad.
The job will put Elena in the midst of a killing spree like no other…and pull her to the razor's edge of passion. Even if the hunt doesn't destroy her, succumbing to Raphael's seductive touch just may. For when archangels play, mortals break…

As I mentioned earlier, I have this new obsession with all things
Nalini Singh
, and when I was on my Oakland trip, I walked down to Jack London Square to the Barnes and Noble and picked up this one, which I've heard nothing but good things about. Of course that doesn't always prompt me to buy a book, so that meant I had to find out for myself if, after reading "Slave to Sensation", the magic held. Not surprisingly, it did.
Elena is not only good at her job as hunter, she's considered the best, which is why she's summoned by archangel Raphael when another archangel goes on a murderous rampage. Being immortal does not protect them from madness, and Uram has crossed a line he can never come back from. Because of Elena's unique abilities, she is the best choice to track such a dangerous being. Failure will surely mean her death. In fact, pretty much any outcome will guarantee she won't come out of this alive. But it's too late to back out; she's already come under Raphael's radar.
Dealing with the arrogant and deadly Raphael is liking balancing on a very narrow ledge in the middle of a storm. Elena knows that just the smallest slight could be reason enough for him to kill her; Raphael is not human and cares very little for human life, and he only needs her for as long as it will take to locate Uram. Elena knows this and does her best not to antagonize the archangel, but sometimes she just can't help herself. She's not about to become one of his adoring followers, no matter how incredibly beautiful he is.
Raphael has lived too long to have much care or concern for human life, but this mortal hunter intrigues him. Both fearless and afraid, Elena challenges him, occasionally stands up to him, yet also has a strong sense of self-preservation, and she almost never does what he expects her to do. He finds himself strongly drawn to her, but never will he let a human rule him. He is immortal, and she nothing but a blip on a timeline. But oh what a fascinating distraction this blip turns out to be....
Together they try to stop a rogue archangel who is bent on washing the world in blood. But nothing could prepare them for just exactly what will happen when this rogue, inflicted with madness, manages to elude them, going on a killing rampage that could destroy them. And that's when they discover just how unstoppable he turns out to be.....
My thoughts:
I will admit that with the influx of bad-ass heroines who are tough, stubborn and tend to subscribe to the loner existence, I was wonderfully surprised by Elena. Yes, she's all of those things, but yet she's not closed off from people, and her existence as a hunter is just a part of who she is, not a reason to push people away. She has friends, even a best friend, and she has a home that she considers her haven, a place to go and just "be". Elena also has family issues, but she doesn't let them cripple her to the point of being unable to function emotionally. She's made her own kind of family with other hunters, yet still looks out for her sister Beth. Elena is rather well-adjusted, all things considered, and I rather liked that about her. She accepted herself as a born hunter, and did what was required as naturally as breathing. It was not just her calling, but who she was at her core.
I found Raphael to be a really different kind of a hero, because you never know if or when he might just decide to turn on Elena and eliminate her at his own discretion. He's immortal, so having lived for as long as he has, his ability to care is not high on his priority list. He's seen too much over the centuries, and for the most part, this has de-sensitized him to the pain and suffering of others, especially humans. As far as he's concerned, there must be order within the Cadre of Ten, the society of ruling archangels, and his most pressing concern is stopping one of their own from destroying the world. He will do what it takes, and use whoever it takes, to stop it from happening. At first, Elena is nothing more than a means to an end for him, albeit a rather tempting package, and once her usefulness has passed, she most likely will die by his own hand. So this doesn't stop him from wanting to play with his hunter, especially since his lovers tend to be warrior women, and Elena is a warrior to her soul.
And these two together are rather amazing. I think because Elena was a more compassionate fighter, she was the perfect foil for someone like Raphael. He was able to see how she cared for others, how an innocent who suffered got to her, and it made him a little more human, even to the point of wanting to protect her. Their chemistry is sizzling and seductive, and inevitably they were going to end up in bed together. When it finally does happen, it's intense and spectacular, and let's just say angel dust never sounded so magically delicious. What a treat.
But this story wasn't just about them, it was about an interesting and complex world of angels, vampires and humans, and how they all lived and the rules that bound them together. We discover how vampires are Made, and how the archangels rule. The bits and pieces of insight the reader is given leaves me clamoring for more. And the story is rich with secondary characters who intrigued me almost as much as Elena and Raphael, and I am insatiably curious about their lives and their fate. I'm really looking forward to discovering even more about them in follow-up books to this series, which is so completely different but no less fascinating than Nalini's Psy-Changeling books.
So my feeling is that if you're in the mood for something a little different in your paranormal, with a touch of the familiar, you probably want to give "Angels' Blood" a try. I know I'm extremely glad I did. This is good stuff.
Rating: ****1/2 out of *****


Labels: Nalini Singh