Tuesday, March 03, 2009: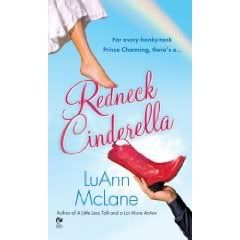 Raised by her widowed father, Jolie Russell has always been more into getting dirty than looking pretty. She can keep up with any man—that is, until wealthy and sexy land developer Cody Dean struts into her life.
Cody buys the Russell farm with an impossible-to-refuse multimillion-dollar offer that Jolie and her father can't refuse, then relocates them to the Copper Creek Estates. But the country club atmosphere isn't ready for Jolie's kind of country. As her two worlds collide, Jolie wonders how she can ever hope to capture Cody's heart without giving up her grits.
I was in the mood for a light-hearted, sweet romance, and LuAnn must have known it cuz she sent me this. Jolie Russell and her father are living the simple life and like it that way just fine until one day Cody Dean drops by on their doorstep and offers to buy their property for a quite a pretty penny. Jolie wants to see her father not have to work so hard, as he's done all his life, and she's relieved when her father agrees to sell.
But the privileged life isn't without it's own share of complications, as Jolie soon learns the hard way. The gated community she now lives in frowns on their casual ways and country roots. Sexy land developer Cody Dean does his best to smooth relations between the two opposing sides, and discovers that he enjoys the sassy candor of one Miss Jolie Russell more than he expected, but he's still caught up in the rules and regulations of the society he was raised in all his life. It takes a little competition from his less reserved brother to light a fire under his Richie Rich butt before he finally gets his act together and pursues Jolie on his own steam. But now that he's made his move, will the outspoken Jolie decide living in his world is worth the effort, or will she hold on tight to her simple, uninhibited ways and forge her own path without him?
My thoughts:
This was definitely a quick and fun read. I loved Jolie's attitude a whole lot. She didn't really care that she wasn't a "skinny bitch" and instead enjoyed looking just how she was. I also admired that she liked her new friend Carletta and was more concerned about maintaining that friendship than she was about impressing her fancy neighbors. Jolie saw the value in people and appreciated them for their unique ways instead of wanting them all to be just like her. She had her insecure moments, but that was mostly when she tried to be something she wasn't. When she was her own self, she shined.
Cody was a sexy Prince Charming, but I found myself actually liking his younger brother Brett a whole lot more. Still, Cody was rather endearing, and I couldn't help but like him all the more when he couldn't help himself from falling in love with Jolie. She brought out a different side of Cody that let him relax and take time out to enjoy just "being" instead of concentrating on work all the time. Jolie made him laugh, and made him realize that he wasn't taking the time to enjoy the benefits of all his hard work.
Jolie was definitely a firecracker who spoke before she thought, yet she was also smart and hard-working. And no one meant more to her than her father. I loved how close she was to her dad, and how she looked out for him and has been ever since her mother passed away so many years ago. Never once did she resent her father for not always being there when she needed a guiding hand, but recognized that everything he did, he did out of love for her. It was very sweet.
There were a few little...quirks...I guess you could say that got a little on my nerves, but they were my issues and not anything bad about the story. The first was that I felt the clumsy moments between Cody and Jolie were too contrived and "cute", and happened way too frequently, and this drove me a little crazy. If Jolie was more accident-prone and had these kind of incidents on a more regular basis throughout the story (think Bella in "Twilight") then they would have been more believable, but instead they were a little too cute. The other was Jolie calling her father "Daddy". I know that this is a fairly common way to address fathers in the south, no matter what the child's age is, but she said it so frequently that it was distracting, and it made me think Jolie was even younger than she was (in the story I believe she's twenty-four).
But these are my little hang-ups and didn't take away from my enjoyment of the story. I would recommend it to anyone who likes cute, sweet stories set in a small southern town, and who has an appreciation for country music. And if you like outspoken heroines who have no intention of becoming something their not just to please everyone else, then Jolie's your girl. And Cody is just the right type of hero to appreciate her.
Rating: **** out of *****
Happy birthday, LuAnn!!!
Labels: LuAnn McLane, reviews