Friday, February 20, 2009:
I got
LuAnn McLane
's upcoming release in the mail yesterday, and I can't wait for the chance to read it. One thing I adore about her stories is that they're sassy and fun and sexy, yet also full of those quirky characteristics of small town, and in this case particularly, a small southern town. Having grown up in a small town for most of my life, I feel a connection to characters who are living in places where it's not unusual, even in this day and age, to leave the door unlocked. Where everyone knows you, your parents and your siblings. Where there's one traffic light and most stores are closed on Sundays. That's exactly how I grew up, and LuAnn manages to really bring places like that to life, with a heavy dash of southern hospitality thrown in.
She's written several books over the last few years, and I've read most of them and enjoyed them all. They are a refreshing change of pace from the incredible array of historicals, paranormals and scorching erotic romances that I consume on a regular basis. Her voice is so distinctive in her books, and I admire that a lot, considering how books start to "sound" exactly the same after awhile and it's hard to tell them apart.
So today I'm spotlighting LuAnn as my pick for an underrated author. Her stories may not appeal to everyone and there's not a lot of new material brought to the table, though I think she's done her part to rejuvenate books about sports (i.e. baseball in "Hot August Nights" and motorcross racing in "Driven by Desire"), but her books are immensely likeable and charming, and her characters are people I can easily relate to. Her stories are straight-up romance with the main focus on the hero and heroine, and she tends to pepper them with references to favorite country singers, which, as a fan of country music, really appeals to me.
I've also been fortunate to have spoken to LuAnn many times, and she is as genuine and as sweet as her stories. Even if I'd never met her though, I would still be a fan of her books. But knowing LuAnn is the icing on the cake, and it makes me want to see her do well in her career.
So which author do you think is underrated, and why?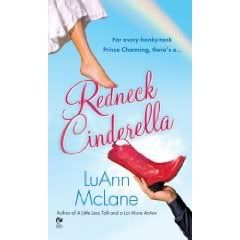 Paperback: 304 pages
Publisher: Signet (March 3, 2009)
ISBN-10: 045122633X
ISBN-13: 978-0451226334
Raised by her widowed father, Jolie Russell has always een more into getting dirty than looking pretty. She can keep up with any man—that is, until wealthy and sexy land developer Cody Dean struts into her life.
Cody buys the Russell farm with an impossible-to-refuse multimillion-dollar offer that Jolie and her father can't refuse, then relocates them to the Copper Creek Estates. But the country club atmosphere isn't ready for Jolie's kind of country. As her two worlds collide, Jolie wonders how she can ever hope to capture Cody's heart without giving up her grits.
Labels: authors, LuAnn McLane