Friday, October 24, 2008:
If you read romance and surf the 'net like I do, then there's probably something you've noticed quite a bit of lately. Manlove has exploded...in blogland, that is. Many of my favorite bloggers have become rather infatuated with the incredible selection of "man on man action" romances that have been finding their way into the mainstream. Most notably Lisabea and Sula celebrate by hosting ManLoveMondays.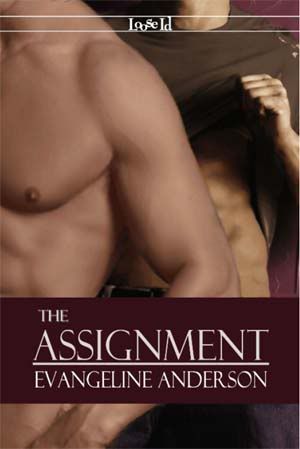 Now I'm not talking menages, where some lucky woman gets to revel in the pleasures and attention of two (or more) sexy men. I'm talking men lovin' men, only. I myself have read a few of these popular romances. What I've discovered is that in order to make it work for me, it must meet my standards. The men must be very alpha. And they should be attracted to women at some point during the story. (This is going back to the "all about me" factor).
My first ever m/m romance was "The Assignment" by Evangeline Anderson. I really liked it because it met my requirements. The main characters in this book were both very alpha. They were undercover cops on an assignment as gay lovers trying to make a bust. Nick had already started to feel amorous towards his best friend and partner, Sean, and was horrified by it. Not because he was homophobic, but because he was terrified of falling in love with someone who could never love him back. See Sean was a player like Nick, and before his feelings changed, both him and Sean LOVED the women. But then something happened to Sean that opened up Nick's eyes to his own feelings, and he realized he'd fallen in love. Now here he was, a cop on assignment as a gay man who must "pretend" to be in love with his male partner, only he's not pretending. Hot, hot, hot.
I also read "My Fair Captain" by J.L. Langley and while I loved Nathaniel, I found Aiden to be way too effeminate (as I've mentioned in my review). He was way more girly than I am. Likeable, sure, but not sexy to me. It was a fun story, dirty and sexy and wild, but not one I'd tend to pull off the shelf and re-read. Well, okay, maybe to read the naughty bits, especially the part where Aiden is hiding and watching Nate pleasure himself (whew!)
I've read a few others (the titles escape me now) and it's pretty much the same thing. Unless at least one of the men is/was into women, then I don't find these stories very sexy, because admit it, chances are you're not reading m/m romance for the love story alone. Okay, then I'll admit it. That's not why I read m/m stories. I read them for the sex, and for the fantasy. I totally get into the forbidden aspect of it. However yes, there must be romance. If it's just m/m sex, well, that's pretty empty to me. I want the HEA too. Like the one Nick & Sean get from "The Assignment". The idea of two heterosexual men falling in love with each other is sexy.
Now, some people believe that we're not heterosexual, homosexual or bisexual, but rather we're just all sexual beings and can become attracted to both men and women. Haven't never been sexually attracted to a woman, I can't completely agree with that. But I can see why some would believe that to be true. There are those out there who are very open and experimental, especially in their early twenties. It "doesn't mean anything" to be with someone of the same sex.
All I know is that I don't have any inclination to read a f/f romance, and even f/m/f doesn't appeal to me. I love the traditional m/f, and the popular m/f/m quite a bit. I'd love the m/m even better if I could find more stories like "The Assignment". Alpha, alpha, alpha. That's as good as it gets.
M/M romance: yes, no, maybe?
Any "Assignment"-esque stories you can rec?