Wednesday, May 28, 2008: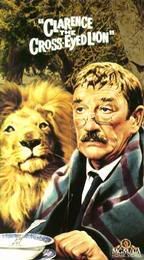 1965
Dr. Marsh Tracy, head of an African animal behavior center, captures an oddly placid lion whom he names Clarence. The beast's eyes as it turns out, are crossed. When Dr. Tracy and an anthropologist are kidnapped by poachers, Clarence shows his paws, jaws and claws work superbly.
This was the first movie I ever saw on the big-screen. I must have been around 7 or 8 years old. I don't remember much about the movie (I have the worst memory ever) but I do remember how cool it was to sit in the theatre and see everything so huge in front of me, to eat popcorn and a big soda. It was such a thrill. I still really love going to the movies.
What was your first movie in the theatre?
Do you remember it vividly?
Labels: movies