Tuesday, January 08, 2008:
Update

: as of today, I still have not heard from Kathy, winner of the $10 Borders gift card. If I don't hear from her by Friday, January, 11th, I will draw another name from the original post.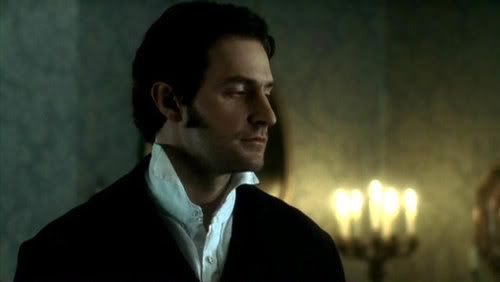 Look, Ma(rgaret), no cravat!

Now, on to the good stuff. Thanx to the divine KristieJ, Dev, Katie(Babs), Sula, Ames, Marg, Jennie, and everyone else who has raved about this amazing phenomenon known as "North and South", I've felt the incredible urge to share with others the joy and bliss that I have experienced from this remarkable series, so I will be
hosting a contest
within the next few weeks, before the end of January, to
win a copy
of "
North & South
".
I haven't decided yet how the winner will be selected, but I promise not to make it too, too difficult - you won't be going on a random treasure hunt or spending any money or anything cray-zee, but I might not make it too easy either, just so I can have me a little bit o' fun. Let's just say commenting on any of the posts, even if it's to tell me to bugger off, might not hurt *g*
John Thornton (Richard Armitage) looking seriously dreamy
Then again, maybe that won't be what I'll do either. I don't know yet. I feel like bein' a brat. All I can promise is that it won't be long and involved. It's all about spreading the love. Stay tuned......
Labels: contests, North and South